Top tips for growth from Dr Clara Hurst, founder of Perth-based cosmetic clinic, Blanc.
While the world grappled with COVID-19, beauty and aesthetics businesses were focused on surviving while being forced to shut their doors. But, as we move through the aftermath of the pandemic, many business owners are now turning their gaze back to focusing on growth.
If you're in this boat, we've got you covered with a few tips from someone who has tripled their business in three years. Dr Clara Hurst is a cosmetic injector, educator and founder of award-winning, Perth-based skin studio, Blanc. Over the last three years, despite the pandemic, she's managed to kick some serious business goals.
Below, Dr Hurst shares – from her own experience – what to consider doing if you'd like to grow too.
Increase your square footage
Having a bigger floor space will allow you to take in more clients. And, we all know more bookings = more revenue. Within six months of Blanc's opening, Dr Hurst seized an opportunity to take over extra premises next door. This allowed Dr Hurst to develop her clinic considerably with the doubling of treatment rooms, staff, and the addition of a second waiting room.
Now, we know what you're thinking – how does one know whether it's the right time to consider taking a larger premise? Follow Dr Hurst's lead and be guided by your booking capacity…
Just months after Blanc's opening in March 2019, Dr Hurst found appointments were regularly being booked out. Exactly one year after this, Blanc had again outgrown the increased clinic size. An opportunity again presented itself to acquire another commercial unit next door and the clinic once again expanded to triple the size of the original venture.
If you're finding demand for service is greater than what you currently provide, it's likely time to go bigger. If your books aren't full, consider focusing on other areas for improvement first.
Build strong relationships with your client base
From the beginning, Dr Hurst and Blanc's staff worked hard to build rapport with clients and solidify the clinic's impressive reputation as a trusted brand. Due to Blanc's rapid growth, Dr Hurst also invested in hiring an in-house marketing team to support communication with existing and potential clients.
Developing solid bonds with your customer base will have you enjoying returns on two fronts:
Repeat clientele who book appointments with you regularly.
Word-of-mouth recommendations by clients who refer your business to friends and colleagues as a reliable service provider.
Diversify your treatment offering
If it's appropriate for you to do so, adding to your service menu may have you reaping serious benefits. Following the new fit-out, Blanc now offers two pillars of treatments: A dermal therapy side of the clinic plus a clinic side for medical therapies.
Dr Hurst recognised that many clients wanted the best of both worlds in terms of medically-led and spa-inspired treatments so she decided to use this to her advantage and service both.
To decide whether to add further treatment options, chat with your staff and ask them whether there are any particular procedures that clients are requesting. If you send out email communications to your customers, you could also consider surveying them to find out what they'd like.
Invest in your premises
When it comes to spas and clinics, that old adage about how 'first impressions count' couldn't ring more true. From the moment new clients walk through your doors, they will be checking out the space and starting to form opinions.
Blanc was designed drawing on inspiration from Dr Hurst's time working in London. From this experience, she understood how much clients valued finding a peaceful escape amidst the hustle and bustle of one of the world's busiest cities.
The dermal therapy section of the clinic is spa-like in nature and decked out with plush furnishings. Meanwhile, dim lighting relaxes the mood of the space and sets the scene for indulgent treatments.
In contrast, the clinical side is brighter and features streamlined marble stone bench tops and polished plaster walls. The vibe is still tranquil yet the space fittingly feels more medical in nature reflecting the attention to detail and exceptional results patients can expect.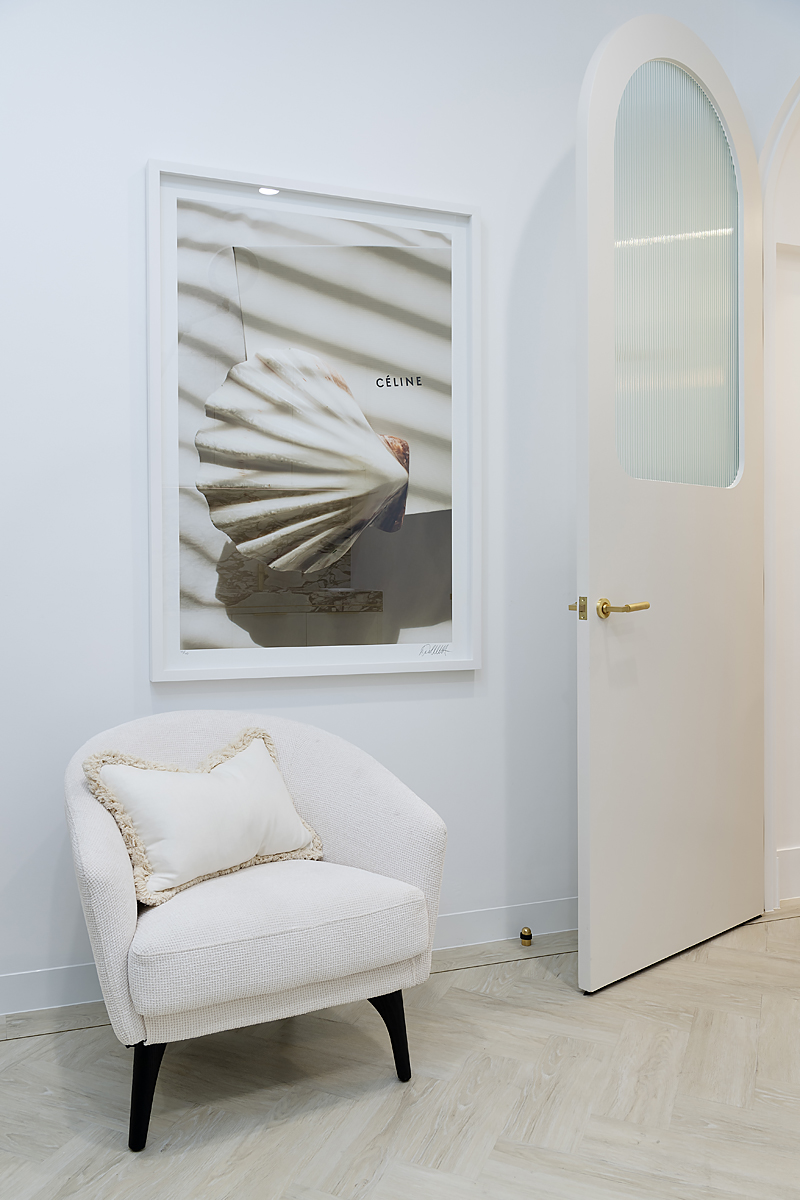 Pictured: Snapshots of Blanc's various beautiful spaces.
Image credit: Supplied.
If you're curious about Blanc's design details, Dr Hurst has kindly shared her suppliers below:
Interior designer: Megan Dupreez at Studio Raphael
Builder: 247 Interiors
Interior styling and sourcing: Mirella Scaramella from Mobilia
Furniture: The waiting room furniture was custom made while the office chairs came from Coco Republic, and the occasional chairs are by King Living
Stone: CDK Stone
Flooring: Wall-to-Wall Flooring
Drapery: Window Studio
Cushions: Lucy Montgomery
Fresh florals: Natural Art Flowers by Rebecca Grace
Artwork: By Dina Broadhurst and Akila Berjaoui
Read SPA+CLINIC's latest issue here:
There are 5 ways you can catch up with SPA+CLINIC
Our quarterly print magazine, delivered to your door. Subscribe here.
Our website, which is updated daily with its own completely unique content and breaking news.
Our weekly newsletter – free to your inbox! Subscribe here.
Our digital magazine – click here to view previous issues.