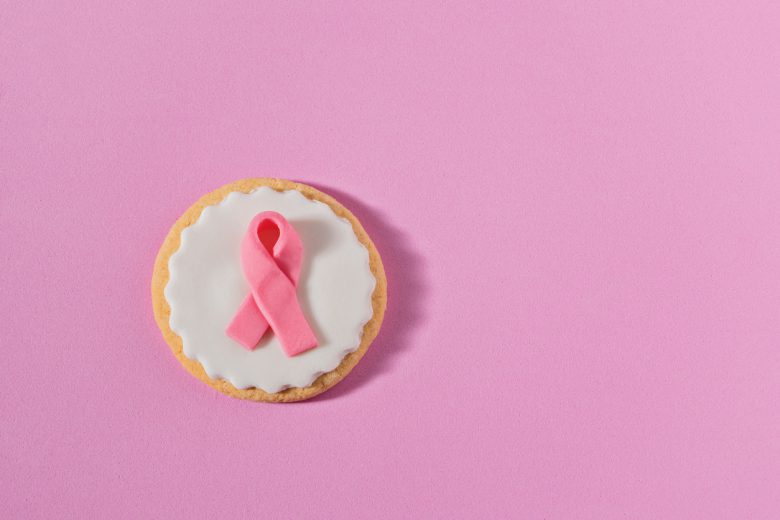 Breast cancer is the most common cancer affecting Australian women. In 2019, it is estimated that 19,371 women and 164 men will be diagnosed with breast cancer – and an average of 53 people diagnosed every day.
Every October, it's wonderful to see both new and established brands doing their bit to give back, with campaigns or portions of product sales donated towards the cause throughout breast cancer awareness month.
These are the campaigns and products contributing towards breast cancer prevention this month:
Supporting Campaigns
The Estée Lauder Companies has launched a new broad spectrum campaign, including:
-Social media strategy, including call to action to rally supporters around the world to participate and raise funds through the simple action of drawing a Pink Ribbon on the back of their hand using pink lipstick, sharing why it's #TimeToEndBreastCancer and posting a photo on Instagram, also with #ELCdonates. For every public, in-feed Instagram post during the month of October featuring both #TimeToEndBreastCancer and #ELCdonates together, The Estée Lauder Companies will donate $25 (a half hour of research) up to $250,000 to the Breast Cancer Research Foundation (BCRF), which will fund a one-year research grant.
-Illuminating buildings, monuments and landmarks worldwide in glowing pink lights to raise awareness of breast health – including the Empire State Building, New York City, the Eiffel Tower, Paris, and Kiyomizu-dera Temple, Kyoto
-Distributing informational brochures and pink ribbons at The Estée Lauder Companies' beauty brand counters worldwide
-Driving donations to the BCRF through ELCompanies.com/BreastCancerCampaign
POLYTECH, a global leader in breast aesthetics, has created a new educational social media campaign, that will engage with patients throughout October for Breast Cancer Awareness month, with informative content and contributions by plastic surgeons, on breast health and breast reconstruction. The POLYTECH campaign includes practical information and tips on self-examination, screening tests, breast reconstruction options, procedures and more. Resource materials are available on the POLYTECH website. The campaign will run simultaneously across the different social channels and in three languages (English, Spanish and German).
To support the NBCF, Wrinkles Schminkles included them in a research study conducted with 92 of the brand's customers, asking several questions about the perception consumers have on brands that support foundations/charities. The results were overwhelmingly positive – 95.6% said they would likely buy from a business supporting a cancer foundation. 93.3% also considered it important to buy products labelled as safe to use post-breast cancer treatments. This type of information is invaluable in encouraging businesses to continue stocking products that give back to foundations like BCRF.
Supporting Products
Aveda's limited-edition hand relief™ moisturising creme with cherry almond aroma provides intense moisture and helps soothe seriously dry hands, leaving them noticeably softer and smoother. Andiroba oil and other plant hydrators help infuse skin with nourishment for moisturised, soft hands. 95% naturally derived, featuring Aveda's iconic sweet, juicy floral pure-fume aroma with 38 flower and plant essences including tonka bean, certified organic orange and ylang ylang. $5USD of every purchase supports cruelty-free research through the National Breast Cancer Research Foundation.
To raise funds for Breast Cancer Research, this year Black Chicken Remedies will donate $2 to NBCF for every Pink Edition 75g jar of Axilla Natural Deodorant Paste sold (in both Original and Barrier Booster formulas), with the aim of raising $40,000 – up from $26,000 from last year. "The success of last year's campaign proved our customers were really supportive of the NBCF partnership. However this year they wanted both deodorant formulas to turn Pink.  And when customers ask, we listen," explains Founder & CEO Chey Birch.
This October, Wrinkles Schminkles have partnered with the National Breast Cancer Foundation and are donating $5 from every one of their best-selling WS Chest and Decolletage Smoothing Kits purchased. Reusable for up to 30 applications, Wrinkles Schminkles pads work by keeping the skin taut so it can't crease or wrinkle, while the healing properties of the medical grade silicone create hydration, moisture and bring blood flow to the surface of the skin, aiding the stimulation of collagen.
$3 from the purchase of every Jane Iredale Limited Edition Forever Pink will be donated to Pink Hope – a breast and ovarian preventative health hub working to ensure every individual can assess, manage and reduce their risk of breast and ovarian cancer, while providing personalised support to at-risk women. This long-lasting custom colour adjusts to the body's chemistry for a perfect match with any skin tone, while rich botanical oils and waxes soothe and soften skin. Packaged in an elegant box adorned with a beautiful floral watercolour inspired by the soft pink blooms in Jane's garden.
With such a positive response towards cancer fundraising in the latest Wrinkles Schminkles survey, there's no reason you shouldn't breast cancer awareness month within your business, whether it's as large as an event or as small as a product inclusion. If you support breast cancer awareness month in any capacity in your spa or clinic, we'd love to hear about it! Let us know your story in the comments below.