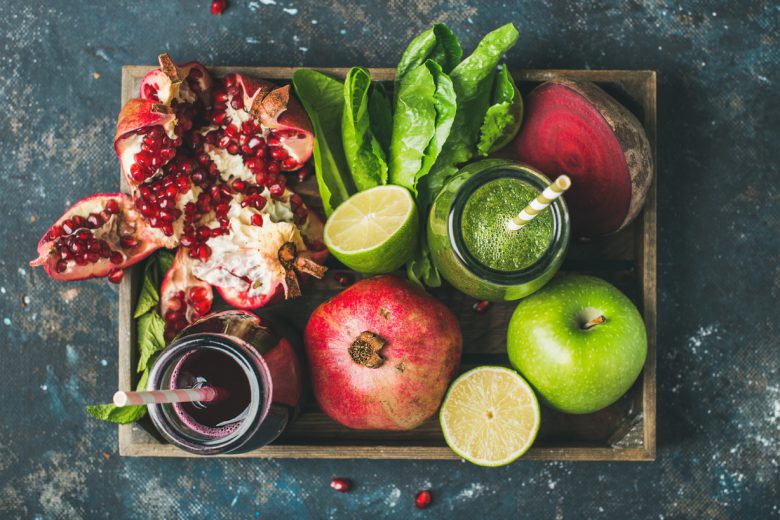 You've heard of cold pressed juice. Now meet the latest beauty fad – cold pressed skincare.
Perfectly in line with the raw, naturally-derived, organic nature of the industry as it currently stands, cold pressed, or cold processed, skincare follows the same principle as cold pressed fruit juice. It refers to the process of juicing using of a hydraulic press, squeezing the juice from fruit, rather than a traditional method of juicing, which uses fast-moving mechanical blades that rely on centrifugal force to separate juice from pulp.
The heat generated by the force of these blades has been known to reduce the quality and amount of nutrients offered by fresh juice, and subsequently, cold pressed in now generally seen to be the healthier, more nutritious option.
"Cold pressing allows you to use natural oils extracted directly from botanical sources, which helps maintain the natural benefits of the oils," says New York Dermatologist Joshua Zeichner.
Using cold pressed juice and extracts in beauty products simply means that these higher levels of nutrients are carried through to our skincare, without the use of any heat (above room temperate) used in traditional manufacturing methods.
One of these methods is most commonly heat-assisted emulsification, which uses heat up to 90°C to combine ingredients that are otherwise not soluble, and prevent product separation. Cold processing uses other methods of emulsification that do not require heat, as well as avoiding other heat-reliant ingredients such as wax, to protect the integrity of their delicate plant and vegetable actives.
The only notable difference between the cold pressed juice we drink and those used in beauty brands is the shelf life, and fortunately, most beauty products will last a little longer on the shelf than their beverage counterparts, which are only consumable for around 7 days.
"Despite the extracts being naturally obtained, the skin-care product still will require a preservative so that it can sit on the shelf without contamination," says Joshua.
Luk, one of our favourite cold pressed beauty brands, has compiled a list of each cold pressed fruit and plant extract they use in their range, and the benefits each one can offer your clients (try not to get hungry as you read!)
Orange – Vitamin C improves skin texture, tightening your complexion
Pomegranate – Ellagic acid to help repair skin and reduce wrinkles
Raspberry – Rich in antioxidants to fight free radicals
Turmeric – Potent anti-inflammatory, brightens and calms skin by decreasing skin puffiness and redness
Apple – High fibre aids digestion and removal of toxins
Beetroot – Detoxifies the skin by eliminating impurities via the liver
Ginger – Antioxidants neutralise damaging free radicals
Lemon – Strengthens skin cells, smoothing your complexion
Lemon – Antioxidant Vitamin C protects the bodys cells
Ginger – Eases headaches and sore throats
Cayenne – Immediate metabolism booster, also great for sore throats and irritating coughs
Avocado – Luscious lipids with vitamin E to replenish moisture
Banana – Sustained energy boost
Coconut water – Natural electrolytes for a day on the go
Kale – Vitamin A to enhance skin tone and smoothness
Cucumber – Helps eliminate toxins for a radiant complexion
Lime – Vitamin C makes collagen and elastin
Pineapple – Enzyme bromelain keeps the immune system in top shape
Almonds – Maintain skin elasticity for smooth, soft dewy skin
Cardamom – Eliminates wastes which can cause dryness
Dates – Iron helps to provide oxygen to our cells creating a radiant complexion
Water – Hydrates and plumps skin cells
Nutmeg – Reduces acne for clear skin
Vanilla bean – Helps smooth fine lines for a youthful appearance