It's only someone who has suffered a debilitating skin condition, such as severe acne, who truly understands the pain it causes. Sometimes literally.
Let's call her Debbie; a popular blonde, blue-eyed Sydney teenager with a great body and even better brain, and opportunity aplenty.
Yet she recoiled every time she looked in the mirror, and the longer the mirror looked back the worse the festering lumps and redness seemed.
Her self-esteem slumped, and she'd often make excuses to avoid going out. Debbie was self-conscious enough about her skin, but the unwelcome comments compounded her insecurities.
Not all the comments about her acne were intentionally hurtful. When someone who genuinely "meant well" and was trying to be "helpful" said things artlessly, it was often worse than a person who was just downright nasty, and had who-knows-what agenda for being cruel.
So cut to February 2017. Debbie Dickson is an international award-winning educator for DMK paramedical skincare (and, with husband Daniel Dickson, DMK's distributor in Australia for the past 20-some years) and has flawless skin.
I hasten to add the "Debbie" of the opening scenario is fictitious, based on many teenagers with acne whose struggles I have known.
However, Debbie Dickson did have severe acne as a teenager, which led her to the path that has culminated in her career success – skin revision. Not just ad hoc products and treatments, but customised, scientifically based programs to correct and regenerate skin from the inside out.
Despite the extraordinary success she achieved with her own skin and, through DMK protocols those of hundreds of others, she knew that even better results could be achieved from treating the root cause of most skin issues: the gut.
Indeed, from birth, the gut plays a vital role in overall health and wellbeing, with the gut-brain axis at its core.
From linking parts of the nervous system right through to the connection of emotional, cognitive, and intestinal functions, gut-brain function (and within that, microbiota health) directly impacts on body functions, skin and mood.
On Tuesday, February 7, at the MCA in Sydney, Debbie, founder and formulator, and proud "father" Daniel gave birth to a six-year labour of love (and lots of their money!): Regul8 Digestive Tune-up and Relax systems, all-natural supplements originating from herbal medicine practices, to support the cleansing, restoration and maintenance of digestive health.
"Building on the philosophy that health and beauty begins in the gut, I was inspired to develop an herbal based supplement range to address the challenges of our modern-day lifestyles," Debbie told the audience at the Regul8 launch event.
She explained that the digestive system is not too dissimilar to that of a garden: if it becomes overgrown with undesirable flora such as weeds, nothing else can survive.
In the case of digestion, it's the "bad" bacteria that rob nutrients essential to probiotic survival, preventing the beneficial nutrients from reaching the body.
Further, that approximately half the Australian population complain of some digestive problem in any 12-month period, with long term disturbances in gut flora and digestive health potentially resulting in numerous wide-ranging conditions.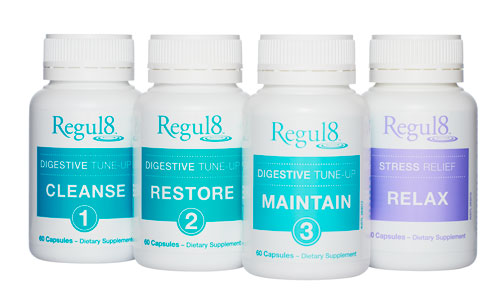 KEY FEATURES OF REGUL8
Regul8's Digestive Tune-Up series of Cleanse, Restore and Maintain products can be likened to a "weed, seed and feed" allegory.
Digestive Tune-up is an easy to follow, multi-step process that cleanses, soothes and repairs the gastrointestinal system, removing unwanted and unhealthy organisms, soothing existing irritations and encouraging the growth and cultivation of healthy intestinal micro flora for sustainable long-term digestive health.
Companion product Relax, for stress relief and better sleep, harnesses the traditional therapeutic benefits of lemon balm, passion flower and rhodiola, co-administered with fucoidan (from seaweed) and black pepper. Relax focuses on re-establishing cognitive alertness and clarity, during times of mental fatigue or strain and to help relieve symptoms of stress, nervousness and mild anxiety.
According to research when developing Regul8*, Debbie says the microencapsulation technology used in Regul8 allows 100 percent of the ingested cultures to be delivered alive to the target area. In most commercially available prebiotic and probiotic formulas, only 10-20 percent of cultures are able to reach the gut. The microencapsulated coating provides an effective barrier and enables probiotics to pass safely through the acidic environment of the stomach and reach the intestinal tract intact, where the benefits can be most effective.
MORE ABOUT DEBBIE DICKSON
Debbie is a Chinese herbalist, integrative wellness practitioner and dermal lecturer with over 20 years' industry experience. She has a passion for teaching, and has lectured on dermal science and integrated wellness from a cosmetic and beauty perspective for 11 years – presenting regularly at local and international seminars, and conferences.
In 1998, Debbie was appointed Head of Education for DMK* (Danné Montague-King), overseeing the curriculum, and delivery methods of all DMK training with a focus to provide innovative education. Whilst also contributing heavily to the research and development of the brand. This dedication earnt her the inaugural Danné (Montague-King) Legacy award in 2016.
Debbie's qualifications include nutritional medicine, Chinese medicine, integrative wellness, herb and drug interactions, pathology and pathophysiology, dermal therapy and metabolic disorders. She is a member of the Australian Natural Therapies Association.