Aesthetics aside, Ashleigh Sharman discovers the health and environmental benefits of green spaces for your salon, spa and clinic.
Before you skim through this article, stop and take a look around you. How far away is the nearest pot plant or green space?
Most of us are lucky to catch a glimpse of greenery through a window let alone enjoy direct contact, sight and scent from our desk or treatment room locale.
But simple changes, even for those working in a distinctly 'urban concrete' environment, can bring about improvements in health and wellness – easing stress, fatigue and providing a pathway to a spiritual connection to nature.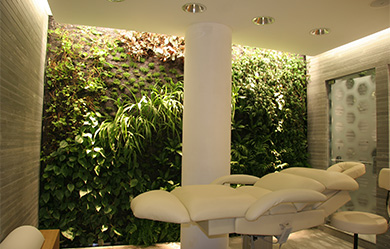 In its 2014 research paper Valuing Trees: What is Nature Worth? Planet Ark reported one in five indoor workers don't see any natural features from their workspaces and just over half of workers can't see the sky. However, 63 percent of people do prefer workplaces that have natural elements and 69 percent want to spend more time outdoors.
The report went on to surmise that having views to nature and outdoor break areas at work were as important to Australians as having easy access to shops, banks and good cafes while at work.
There is clearly more that employers, across all industries, can do to have more natural features at work – starting simply with live indoor pot plants (succulents are a great option), and providing opportunities for employees to have regular contact with nature on break times.
"I've been interested in plants all my life and it has been proven that green space helps to promote more rapid healing within hospital patients, increasing a sense of wellbeing as well as lowering anxiety and blood pressure," says Mark Paul, owner of The Greenwall Company. Its vision is to reclaim the built environment, clothing the facades of buildings with epiphytic and lithophytic planting to create living, breathing architecture.
"Sometimes called living walls, green facades, bio walls or vertical gardens, greenwalls are a dynamic way to green a vertical built surface. Not only are they aesthetically appealing but there are a number of health and environmental benefits and therefore a great wellness concept for salons, spas and retreats," he adds, counting Stephen Marr Salon in New Zealand and Jurlique as clients.
And it is this consciousness of wellness and green living that has given way to the rise in popularity of greenwalls and green roofs from country residences to urban dwellings, even appearing on home renovation television programming as the perfect green antidote for small spaces. But although DIY options are a great project, Mark admits you might find them much harder to maintain.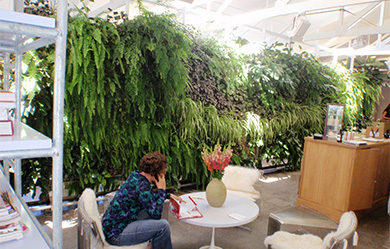 'For the wall to grow healthy and flourish in the way it should, you must have the right amount of power, water and light. If there isn't enough natural light available for the wall to grow, lighting must be added – this is the same for air flow and may be an additional expense to the wall or roof itself. Opt for a greenwall or green roof that has an automated irrigation system and make sure you consult a horticulturalist to advise which plants will thrive in the area the wall will be place,' Mark explains.
The science is simple. More oxygen in the air and greenery in our environment equate to increased alertness and a sense of calm; is essence we feel more 'alive'. And surely that's the whole point of living.
www.planetark.org; www.greenwall.com.au