With new skincare ranges popping up left right and centre, particularly small-batch boutique offerings, brands are desperately trying to find ways to set themselves apart. Increasingly, we're seeing the use of traditional native ingredients, bush medicines and indigenous plants, herbs and spices. Here in Australia, this has meant rising popularity of ingredients like Kakadu Plum, Lilly Pilly, Desert Lime and Qandong to name a few. So what popular native botanicals can we expect to see from other international brands?
Africa has a large range of indigenous medicinal plants and herbs that are high in hydrating and anti-ageing properties, making them ideal for skincare. Johannesburg-founded skincare range Africology is leading the way when it comes to the use of native African ingredients, utilising them in each and every one of their products. Africology founder Renchia Droganis's passion for African therapeutic plants was originally sparked when her mother began using tea made from the African Potato to improve her osteoporosis. She began to research plant extracts, aromatherapy and formulations so that she could create bespoke skincare products, blending essential oils to treat a variety of physical and emotional needs.
The most powerful African natives have since become staples across the range – here are our top 5 picks and their benefits: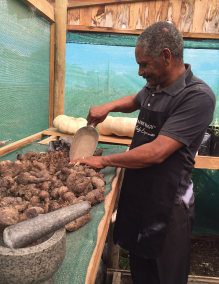 AFRICAN POTATO
The African potato is full of sterols and sterolins which are helpful in the treatment of acne, eczema and psoriasis. It helps boosts the immune system and has powerful anti-inflammatory and antioxidant properties.
ROOIBOS
Green rooibos is harvested from its natural South African mountainous habitat. It naturally contains alpha-hydroxy acid, a compound that is beneficial for maintaining healthy skin, and is rich in iron, potassium, copper, manganese, magnesium, calcium, zinc and sodium. It has fantastic antioxidant, anti-inflammatory and antimicrobial properties. It is useful in treating skin problems such as eczema, nappy rash and acne.  It has a soothing effect on the skin.
MARULA SEED OIL
Called "miracle oil," marula is extracted from the kernel of the marula fruit and is considered one of Africa's botanical gems.  Rich in antioxidants including vitamin C and E, it helps protect against free radical damage and promotes the production of collagen and elastin. It contains high levels of essential fatty acids, like omegas-6 and -9, that help keep the skin nourished and reduce redness through their anti-inflammatory properties. It is light, quickly absorbed and won't clog pores as well as being antimicrobial and non-comedogenic, making it ideal for treating acne blemishes and scarring. It also helps keep the skin hydrated by preventing trans-epidermal water loss.
ALOE FEROX
Aloe ferox is a succulent native to southern Africa. This stemless plant has thick, full leaves with serrated edges. The leaves contain a gel with a variety of uses which include calming, soothing and hydrating sunburnt, irritated and sensitised skin. It is rich in nutritional and healing compounds and minerals, amino acids, lipids, monosaccharides, phytosterols, vitamins E, B, C & zinc. It has anti-inflammatory properties and aids in reducing scar tissue, and helps in the treatment of psoriasis, eczema, burns and facial oedema. It is also a natural astringent and oxygenator (drawing and holding oxygen in the skin), stimulates cell regeneration and helps replenish lost moisture.