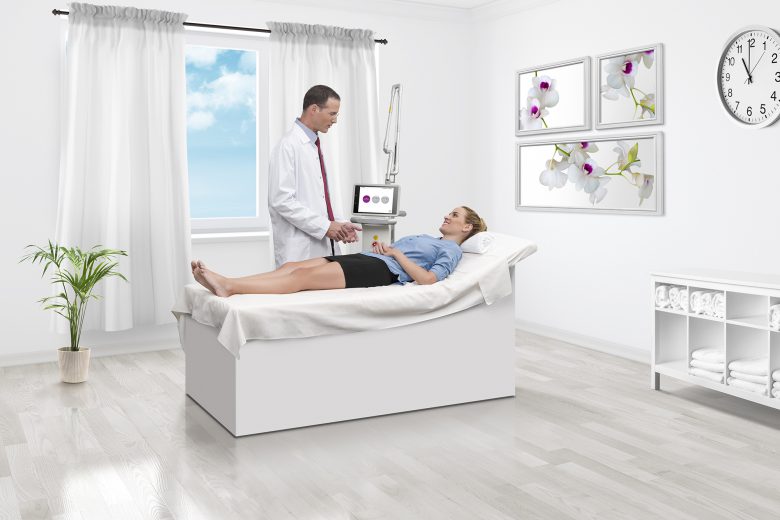 In the realm of medical cosmetic procedures, we've reached a point at which almost anything seems possible. We can create the best version of ourselves with the help of cosmetic treatments, but we can't forget that it's often not just about visual changes, but physical and mental ones that have a massive impact on a patient's quality of life. A procedure that has been improving women's wellbeing on many levels is vaginal fractional laser.
Although it's still somewhat of a hush-hush topic for most, a whopping 45%* of women have expressed interest in vaginal rejuvenation treatments, according to a US survey. The main motivator is vaginal atrophy, which is a common post-menopausal symptom due to a lack of oestrogen and can result in decreased lubrication and thinning of the vaginal lining. Other reasons women consider the treatment are the loss of elasticity and tone due to childbirth or ageing, the resulting accidental incontinence, and sometimes painful intercourse.
All of the above issues can be improved with the Syneron CO2RE Intima, a fractional laser treatment that delivers controlled CO2 energy to the vaginal or vulvar tissue to promote collagen production. This non-surgical procedure can be done in rooms, achieving effective results that have improved many patients' wellbeing.
Dr Konika Patel Schallen, M.D. is the Founder and Medical Director of CMA, Centre for Modern Aesthetic Medicine in Jacksonville, Florida where she practices laser and aesthetic medicine, with one of the, as she says, "most rewarding treatments" she performs being the CO2RE Intima. "I was fortunate enough to be involved in the initial investigations of this technology, which we started in 2014. To be honest, at the time we began studying the technology, I did not expect the impact it would have on the lives of women. We knew, of course that CO2 laser was the gold standard treatment for tissue remodelling in facial rejuvenation. We also knew how it was changing structure of the skin in an impactful and in many cases life-changing way for burn victims. So, we expected that it would lead to a degree of neocollagenesis and neoelastogenesis of the vaginal and vulvar tissue, but we did not expect the level of improvement that we quickly saw in such a wide variety of symptoms," Dr Patel Schallen says.
"In our study, we were measuring changes in the Vaginal Health Index in order to measure grades of atrophy, but our patients began, very early on, to tell us about the improvement in their stress incontinence. One after the other, they said the same thing – they didn't have symptoms of leaking when exercising or coughing. We really didn't expect this; we were really amazed! The impact that it had on our patients in terms of quality of life was so impressive. Really from that point on, it is easily one of the most rewarding treatments that I perform."
The high satisfaction rate of the treatment was further supported by a study conducted by Dr Patel Schallen and Dr Arroyo, which found the following results:
• 94% reported an improvement in vaginal rejuvenation with CO2RE Intima treatment
• 100% reported satisfaction with CO2RE Intima treatment
• 94% would recommend CO2RE Intima treatment
• 81% of women reported an improvement in sexual gratification
Even though the results speak for themselves, some women may hesitate to undergo a vaginal treatment and might even feel uncomfortable talking about their discomforts and concerns. Dr Patel Schallen wants women to know that they're not alone with their problems.
"There is nothing to be ashamed of. Many women suffer from stress incontinence and every woman goes through menopause with a majority having some type of genitourinary symptomatology. Many of these symptoms are uncomfortable or annoying at best and for some women they significantly impact daily living. Sexual health and intimacy are also very important and this is a procedure that has helped many women in the right settings. It is important to have an open conversation with your practitioner to see if this is a procedure that could make a difference," the doctor says.
The whole process from consultation to treatment is fairly straightforward. "First, as in every treatment consultation, we need to start with a solid history and physical examination and an assessment of the symptoms that may be indicated for treatment. We also recommend that the patient has an up to date PAP and that the vaginal exam is performed prior to the treatment. We use a topical lidocaine cream to numb the vulva and introitus externally. There is no anaesthesia necessary internally in the vaginal canal. Prior to the treatment we wipe the cream and perform the internal treatment with the fractional CO2 using a hand piece designed to treat around the circumference of the vaginal wall. After this the hand piece is changed to treat the vulvar mucosa and any of the labia if the patient is interested in contracting the tissue of the labia. The procedure is only about 10 minutes long and most patients find it generally comfortable."
As demand for vaginal procedures is growing, the CO2RE Intima is ideal for any clinic looking to branch out into this area as it is TGA approved, offering usually painless treatment options for vaginal atrophy and female rejuvenation. The device comes with four handpieces along with four different modes for fractional resurfacing. The easy-to-learn user interface, along with Syneron Candela's award-winning customer service will make implementing this service into your business a breeze.
Compared to other similar devices, the CO2RE Intima's compact size means it's suitable for even small treatment rooms. Physicians who offer the treatment enjoy the high satisfaction rate and measurable results.
"I am very excited, this is actually one of the most important aspects of my practice currently. Not only do I get a subjective improvement within the patient, but on the physical exam we see an improvement in the vaginal PH and we see a much improved vaginal mucosa," says Gynaecologist Martin Garcia, MD.  A series of three treatments is usually done, however, some patients notice results earlier than that.
"The treatment is excellent. I had three natural vaginal deliveries and had looseness and incontinence for the last five years. After the second session, I began to notice an improvement in the interior (of the vaginal canal). There was an improvement in sensation during sexual relations. I have told all my girlfriends and the women in my family about this treatment. It's a really great treatment. My last treatment was three months ago and I still feel great. The treatment was easy and was not painful," explains a patient from Spain.
With little to no downtime and minimal side effects, it's a treatment suitable for even the busiest of patients. "In general, side effects have been limited to a few days of swelling, mild discomfort and itching as the tissue begins to heal," explains Dr Patel Schallen.
For more information about Syneron Candela's CO2RE Intima, please contact Syneron Candela on 1300 226 335 or visit WWW.SYNERON-CANDELA.COM
*Buzzback Consumer Survey, June 2017 – Women's Sexual Health study of menopausal women, US females, ages 45 and above, who have not experienced a menstrual period in the past 12 months (n=253)