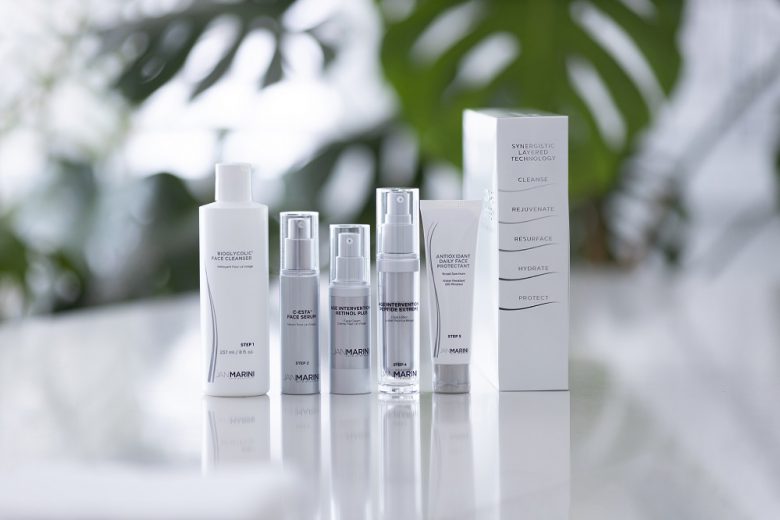 Managing Director of JMSR Australia, Vivien Gardiner, shares insights into Jan Marini Skin Research and why this world-renowned clinical brand continues to grow global market share.
As distributor for Jan Marini Skin Research in Australia for 18 years, what first drew you to  the brand? It was definitely the results. We were looking for a product line for our clinical patients and a colleague introduced us to the brand. We were absolutely astounded by the speed with which JM products changed the skin from dull and problematic to clear, soft and literally glowing with health. As they didn't have an Australian distributor, Jan Marini asked us to partner with her. So you could say we were early investors in a Silicon Valley start-up. Jan already had decades of experience, having co-founded MD Formulations and MD Forte which were the progenitors of results oriented skincare. We knew this next step of hers would be an advance on those products.
What do you attribute to the brand's longevity? Without doubt it's the speed and consistency of results. The products are beautiful to use – they feel very luxurious – yet they bring about beneficial changes in the skin which are quite dramatic to see. I think in the aesthetics industry we're conditioned to imagine it's not possible to achieve change without at least some drama – pain, swelling, redness, damage. Jan Marini skin care just seems to 'quieten' angry skin, then bring it to healthy equilibrium so it radiates health and happiness. When the user experience is so positive, it's not surprising the brand has stood the test of time.
Jan Marini is a US brand, based in San Jose, California. What does this mean to us here in Australia? Jan Marini is one of the top 3 leading aesthetic brands in the US, which is the most competitive market in the world.  It's important to understand that being based in Silicon Valley for 25 years has given Jan Marini Skin Research a huge technological advantage in terms of laboratory infrastructure, intellectual capital, bioengineering capability and formulation expertise. Collaboration with world-leading scientists in the Medical Research Institutes of universities like Stanford (which is literally down the road), Harvard and Johns Hopkins means we can bring products to Australia which are incredibly advanced. Another advantage of being US-based is the raw materials are all sourced from pharmaceutical-grade suppliers within the US, which is a highly regulated environment. When ingredients are imported to make an end product, it's much harder to manage quality assurance. We also have a number of clinical studies and peer-reviewed journal articles from leading US plastic surgeons and dermatologists. This adds to the clinical credibility of the brand and reassures Australian practitioners that the bona fides are sound.
With the global office based in the US, is there a close relationship to the international team and  Jan Marini herself? Jan's exceptional knowledge, her intellectual integrity and her highly ethical approach to formulation have enabled a strong and long-lasting relationship. Jan is an amazing woman. She is very gentle, very kind and we've developed a great friendship over the years. We talk about all sorts of things. She is a woman of profound insight and grace. The culture at Jan Marini Skin Research is remarkable. It's relaxed, casual, open to ideas, collaborative, highly respectful. I speak with Jan and the senior executive team regularly. They are all incredibly supportive and have great respect for the insights our Australian team bring. They respond immediately, act on requests, provide bespoke solutions for the Australian market and actually tell us "nothing is too much trouble for you".  Once a year we come together in San Jose with Jan, the US senior team and the other international distributors. It's a fantastic couple of days of sharing experiences, learning and collaborating. We work hard during the day presenting and brainstorming, then enjoy a casual meal and a glass of wine in the evening. They're all fantastic people and having the opportunity to cement those relationships is invaluable.
You distribute Jan Marini products exclusively. With so many brands up for grabs, why is Jan Marini to this day, your sole brand of choice? I think it's important to stand on what you believe in. When you are partnered with a brand that is so complete, that provides in-clinic and at-home solutions for every skin type, that works perfectly with every other treatment modality, there is no need to seek greener grass. We are results-driven and we take great delight in the feedback from the clinics we supply. Our mission is to see their businesses thrive.
What would you say is the biggest strength of Jan Marini products themselves? Definitely the rapid return to homeostasis in the skin.  Once dysbiosis is corrected and inflammation downregulated, the skin can return to normal function. Normally functioning skin is going to look and feel soft, healthy and radiant. The sophistication of Jan Marini Skin Research formulations is the key to this. They've developed their own suite of proprietary peptide and botanical combinations which are way beyond "buy and blend". These products are integrated systems which provide measurable and reproducible outcomes.
The Skin Care Management System is referred to as a "single solution". What does that mean to its users? Jan calls this "layered technology". It's not possible to formulate effective products together in one bottle, because some ingredients neutralise others or require being taken to different temperatures during formulation, for example. The Skin Care Management System is actually a single solution for correcting all types of skin inflammation in all skin types, except you apply little bits of the overall technology in individual aliquots. The Skin Care Management System microscopically resurfaces, delivers vitamin C, retinol and peptides for rejuvenation, and provides broad-spectrum UV protection. It's a simple clinical tool for practitioners to dispense and can be modified or expanded as the treatment management progresses.
In recent years, what would you say has changed about Jan Marini's local offering? Recent initiatives like the Partnership Program, local promotions and variety in training options enable individual needs to be met and goals to be reached.  Our team is aligned to work more closely with you to improve your sell-through skills, your marketing and your product presentation. Jan Marini's new packaging helps position the brand as sophisticated, modern and professional. No more dark glass bottles! We can also now provide access to great online training tools from the US which enables practitioners to learn when it suits them through videos, literature and webinars.
What can new stockists of Jan Marini expect to experience? Our mission is to grow your aesthetic business. Our talented team will provide dedicated and individualised support and tools and you will be able to provide your clients and patients with incredible and consistent results. The kind of results that are recognised globally as being beyond what you thought was possible with skincare. You will be dispensing skincare that has, at its heart, some of the most deeply researched science in the world, formulated by the most advanced laboratories and founded by someone with many decades of quite unique experience. Yet what we really want, as clinicians, is to see our clients and patients achieve their best skin possible. We can certainly help you with that.
To find out more about Jan Marini products and exclusive Spa and Clinic offers, please contact JMSR Australia, info@janmariniaustralia.com.au or call 1800 330 855. Instagram & Facebook: @janmariniaustralia