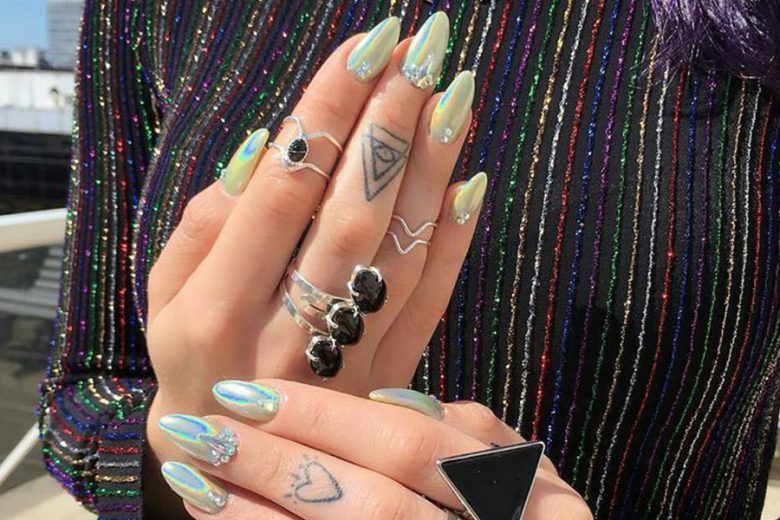 With administers of social sharing platform, Pintrest, reporting searches for 'chrome nails' were up by 570% in February this year, it's clear this is one manicure technique to brush-up on.
In fact, the surge in popularity for the aesthetic, is comparable to the meteoric rise of eco-friendly, cruelty-free cosmetics – (the global green beauty market is expected to reach an estimated US$13.2 billion by 2018.)
SPA+CLINIC explore the possibility of achieving chrome nails using only eco-friendly products, and discover it's not only possible, but very simple.
Indeed, the safety of many chrome pigment powders are questionable and artists tend to reach for long-lasting, lamp cured "gel" nail formulas (due to their naturally high-shine finish) to fuse them with.
Considering some recent consumer backlash to gel formulas (from those concerned about nail-health), along those 400,000 Australians who identify as vegans, mastering the art of this technique using cruelty-free, non-toxic products could drive conscious-consumers into your biz.
"There are no visible brush strokes on chrome nails and they should have a smooth surface like an actual mirror," celebrity nail artist, Maria Vlezko describes the aesthetic. "You should be able to see your reflection in them – think science fiction meets haute-couture!"
"If you, or your client is concerned about harmful chemicals why not opt for alternative," she says. "Your work may not last as long, and the finish will be slightly different, but they can be stunning all the same."
Tutorial: Non-toxic, Vegan-friendly Chrome Nails:
Metallic, cruelty-free eyshadow pigment powder
As most chrome pigments are manufactured abundantly in China, it's not always possible to know what chemicals are in these, so this is why some prefer to use makeup powder pigments. Maria says:
"Using the high quality makeup pigments from Inglot is a great hack to try – if you choose a metallic silver, the effect will be quite similar to classic chroming.
"Another benefit of choosing a reputable brand of pigment (even if it wasn't initially designed for nails) you know exactly what's in it and you can let your clients know it's safe.
"Try all kinds of metallic pigment powders – they may not result in a traditional "mirrored" chrome look, but they can look very beautiful and some may have a chameleon effect, or a holographic look."
Non-toxic nail polish, ridge filling base-coat and high shine top coat
The 3 step Phenom system by Jessica Cosmetics, boasts a super shiny finish and equally glossy top coat, so they are perfect for creating the look.
All products from the brand are free of chemicals such as ethyl tosylamide which can irritate the skin, plus others such as xylene, which are believed by some to have adverse effects on the endocrine system.
Method:
"The secret to top performance chrome, with non-gel eco products work, is making sure each layer is 100 per cent dry – if they're not, it won't work," says Maria.
Apply a ridge-filling base coat.
Make sure it is totally dry, then apply black nail polish, or a very dark colour.
You can try something else – blue, pink or green – if you're looking to achieve an experimental look, like Maria's magenta thumb, above. If you use a colour, once the pigment powder and topcoat is applied, the overall colour will have a unique undertone
Make sure this is dry then dab your finger or an eyeshadow sponge into the pigment powder and quickly rub the colour onto the nail.
NB: While it's more hygienic and professional to use a sponge, she says it's sometimes easier to achieve an even-coverage using your finger-pad.
Seal it with a top coat. Choose a product with a high-gloss finish, and then after application, dry the nails as per normal.
NB: Choose a topcoat that is the same brand as the base and colour so you know their specific formulas are designed to be used together.
With an eye for trends and flawless skill and an artistic flare, Maria Vlezko creates sophisticated designs that are bold yet wearable.
Her work has been featured in numerous international magazines, including Harpers Bazaar, 
Maria Vlezko site, SoNailicious.com ranks as one of the top global nail art authorities.
(Header Image Credit: daily_charme)