It only took one negative customer review on Facebook to send a thriving aesthetics business into crisis mode.
After leaving the salon, the client tried contacting the business owner over email then via Facebook private messages to complain about her experience. It wasn't until the owner failed to respond after several hours, that the client began venting her grievances on the Facebook public wall of the salon. Rather than facing up to the mistake, the business owner simply deleted each comment hoping others wouldn't notice.
Incensed, the customer who happened to be a well-respected beauty influencer, took matters into her own hands. Although the business owner wasn't aware at the time, this client boasted her own social media following of more than 1.2 million Facebook fans. After publicising the issue on her own page, the client asked her fans to leave one-star reviews on the business page. Within an hour, the successful aesthetics business had plummeted from their all-five-star status. Suddenly, they had over 1000 one-star ratings to contend with.
"Reviews are so very important to aesthetics businesses," says Daynah Hamilton, owner of Studio Matrix, a digital marketing and social media agency. "Having positive reviews not only improves your ranking in Google searches, they build trust in your brand."
According to a survey by Nielsen, an Australian market research company, 92% of consumers trust peer recommendations when making a purchase over advertising – and 74% look to their social networks for such advice.
Besides Facebook and Google Plus, there are a smorgasbord of business review websites available to consumers including True Local and Yelp. Your reviews on these can make or break your reputation.  Daynah shares her expertise on how to recover from a bad review on social media with SPA+CLINIC: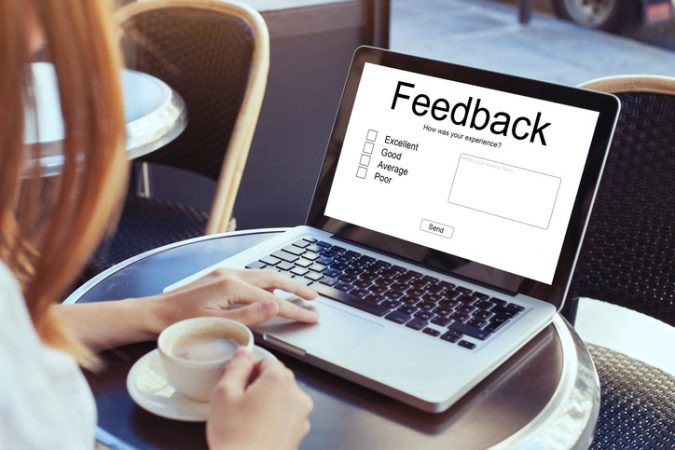 Be Proactive 
It may be impossible for business owners to guarantee every single client has a positive experience but you can put procedures in place to keep negative feedback private.
"Set up a system that encourages positive feedback" advises Daynah. "Send every client a post-treatment email post-treatment to thank them for coming in, making it easy for them to leave a positive review.
"Create a link that says 'tell us why you love us' or 'help us reach 50 five-star reviews' and have it link to your Facebook page.
"In the same email, state how much you value all feedback and if they have any 'other' feedback to reply to the email and reach the owner directly."
Act Lightning Fast 
Daynah says responding quickly to clients who post any comments or reviews (either positive or negative) on your social media page is essential.
"A lot of people won't leave an offical review on social media as a first step, they'll message you or they'll leave a comment but if you don't respond quickly, it will push them to share their experience publicly – in the form of a permanent review that's forever on your page," says Daynah.
"If someone has had a bad experience, they appreciate a response to their complaint within an hour," she says. "Even if it's outside of business hours, make sure your social media comments are manned at all times.
"Set up a notification that goes straight to your phone any time a customer leaves feedback so you can see it and action immediately if important.
"If you're on top of it, and respond straight away, you may be able to fix it on the spot – and once it's rectified, ask them to delete the comment."
Do Damage Control
Often, it is difficult to convince Facebook administrators to remove a negative business review, so it's much better that the customer deletes it.
"Do whatever it takes to encourage the complaining customer to remove their review," says Daynah. "Tell them how important reviews are to your business and how much you value their feedback.
"The best bet is to humbly ask them for a second chance so they come back in, then when they're in the salon go above and beyond to pamper them.
"If you do manage to get them back into the store and they have a better experience, ask them to take down the review or replace it with a positive one – this is your chance to turn them from angry client to a brand ambassador.
"Depending on the nature of the complaint, if you have their contact details reach out and call them then offer them an incentive to take it down, like a refund and something for free."
Reassure Your Audience
Although deleting negative consumer feedback is one of the worst moves you can as a business owner, it's important to save face in front of the other people who see the comment. The way you respond publicly is critical.
"People won't just read the bad rap, they will be equally interested in your reply," Daynah says. "Put people at ease in your reply but don't sound aggressive or defensive.
"If the complaint came from someone getting burnt by laser, you should state publicly in your response that your staff are trained to reassure others that it's safe to see you.
"Take the conversation to private messages as soon as you can – you should thank the reviewer publicly, then publicly let them know how important customer service is to you – then comment that you'll contact them privately to discuss the matter further.
"Only ask them to delete their comments over private messages,  after the situation is rectified."
Contact Site Administrators
The aforementioned business owner (who received over 1000 bad reviews) mainly by people who'd never been to their clinic, was unable to delete them individually. She was forced to turn off Facebook reviews entirely, forgoing all the five-star reviews they'd worked hard for prior to the incident.
"Even if someone hasn't been into your business, they can still leave a negative review on Facebook if they've had a bad experience or are offended in some way by your business," says Daynah.
"Turning off reviews should be your last resort as they're what bring business in – doing so can be detrimental to your brand.
"By the same token, carefully investigate negative reviews – some may have mistaken your company for another and if you're quick to act, they will remove it once they realise the mistake.
"If the review is from a dodgy account with nothing else in it, it could be a competitor – and in these instances Facebook administrators will usually be happy to remove it."