The incredibly successful event was organised in less than a week.
What started as a small in-salon fundraising market for Kristin Fisher's Double Bay clinic turned out to be a milestone, queue-out-the-door event at the Intercontinental Hotel on Saturday January 11th that resulted in a whopping $250k raised for bushfire aid.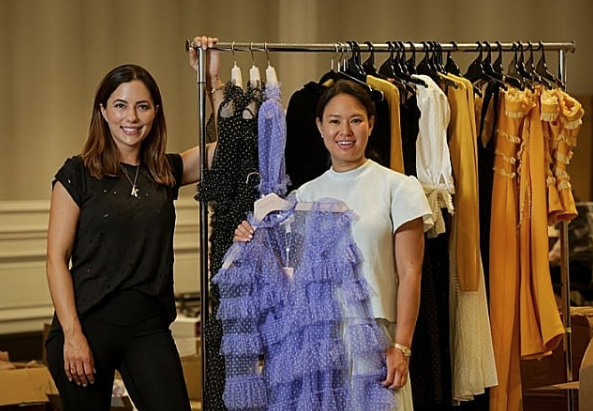 At the beginning of last week, Kristin teamed up with close friend Alyce Tran from The Daily Edited, and began wrangling local brands to contribute products and services to create a casual market-style fundraiser, with all proceeds set to go to WIRES, NSW RFS and the Red Cross. Many of us throughout the industry watched social media in excitement and anticipation as the event continued to grow, gaining rapid visitor interest and growing numbers of brands keen to contribute to the cause.
After just a couple of days after her original event announcement via Instagram and Facebook, Fisher took to social media once again to say that due to overwhelming support, the Kristin Fisher Market was to be relocated to the nearby Guilfoyle Park, in partnership with Woollahra Council, complete with all the trimmings like live music and food. However, it wasn't too long afterward that the KFM was bumped up again, this time to the Intercontinental Double Bay's grand ballroom. In five short days, over 400 businesses had signed on to participate, including Bumble, Vittoria Coffee, Zara, San Pellegrino, Jocelyn Petroni, Babor, O Cosmedics, GINGER&ME, Dermalogica, Bondi Boost, and countless small and local businesses.
A team of passionate volunteers arranged logistics on the day, including sorting donated goods into 'starting at' price categories ($10, $25, $50 etc. up to $500) for attendees to decide how much they would like to pay for each – on or above that amount. The market reached an impressive (and not surprising!) number of attendees, with guests queuing out the door and down the streets of Double Bay.
"The efforts of everyone involved has brought out the best in people and I'm so proud of what we have accomplished," said Fisher. "Massive, huge, ENORMOUS thanks goes to these people and companies, for helping us pull off an event that would normally take 6 months to bring to life, whilst we only gave them four days (or less!) notice."
"As this event grew from the mini market in KFE, to Guilfoyle Park, and then finally to the Intercontinental, Alyce was working hard behind the scenes this whole time on the logistics of the event. She pulled her team off their real jobs at TDE to work on this all week. She devoted her time, her expertise and her resources to this fundraiser and there will never be enough words to thank her. Whilst I was the official hype girl of the event, Alyce quietly made sure this whole event was executed well, and everything was thought out."
Any leftover items once the event was complete were picked up and donated to Salvos.
If you and your team would like to find out what you can do to support Australian bushfires, click here for a few ideas.