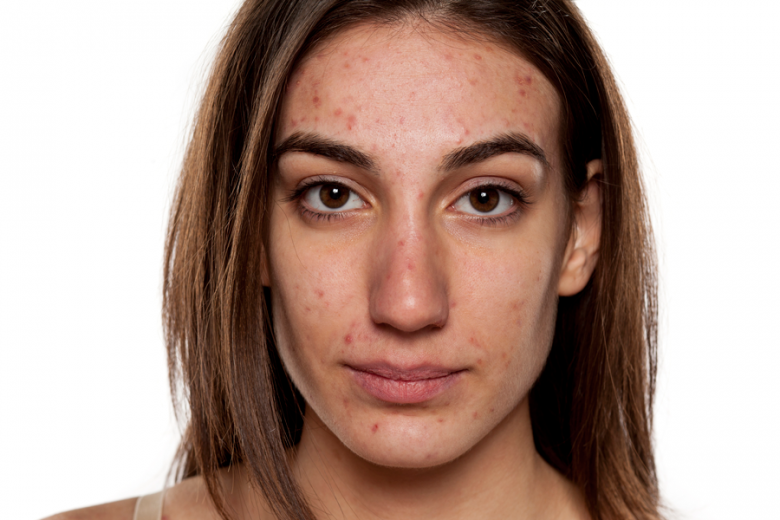 A leading skin specialist is warning women to rethink their anti-ageing skincare regimes as they could be doing more harm than good, with instances of adult acne increasing 200 percent within 12 months*.
"Women in their 30s and 40s start to see lines so begin investing in cleansers and creams in the hope of slowing down the ageing process but instead end up with blemishes and even eczema," says Dr Donna Marcal, an Australian biochemist who has a PhD in human inflammation.
"Acne affects 50 percent of women in their adult lives and is driven by changes in hormone levels, poor diet and environmental factors as well as harsh chemicals and preservatives found in some creams.
"But sometimes it's simply a case of women over-treating their skin – using too many products on their face, many of which contain chemicals not good for the skin, or they over-exfoliate their skin.
"The average woman uses 12 personal care products containing 168 unique ingredients every day. Men, on the other hand, use six products daily with 85 unique ingredients, on average.
"When doctors prescribe medication they are quick to tell you what other drugs to steer clear of but the same doesn't happen with skin products, so unknown combinations of chemicals might be interacting which could irritate the skin and in some instances damage it.
"On the opposite end of the spectrum are time poor women who have no daily skincare routine leaving them with undernourished and dehydrated skin.
"This also leads to dry, itchy skin which can lead to breakouts and can trigger eczema, which is something that is already there, it's just a matter of what triggers it.
"A good cleanser, moisturiser and eye cream are the basics that's needed to keep skin hydrated and nourished but natural is best, stay away from harsh chemicals and unsafe preservatives."
Dr Marcal said the powerful ingredients to look out for that will improve skin are resveratrol, Kakadu plum (said to be the world's richest source of vitamin C), tumeric, pomegranate, astaxanthin and green tea.
"Tumeric, is a superfood for skin because it has anti-inflammatory and anti-bacterial properties, so it is excellent for wound healing and helping treat and prevent acne."
But she says the following is what consumers need to be wary of:
Packaging: Choose products contained in an airless pump container because it means there will be less preservatives present that could irritate the skin. Creams in a jar with a lid need a huge amount of preservatives to stop it from discolouring or separating and going cluggy.
Colours: Creams that look pure white may contain a bleaching agent, which means more unnecessary chemicals on your skin. So watch out for colours added or bleaching agents added to get the cream a beautiful colour that appeals. It's okay if a cream is not perfectly white – that's most likely the active ingredients contributing to the different colours of your cream.
Alcohol: They are not all bad, some are not actually a true alcohol but a side chain on a chemical. But watch out for alcohols at the top of the ingredients list as that is most likely harsh on your skin and will dry your skin out
Smell: There is no need for a cream to have a very perfumy smell. Indeed, that is not great for your skin. If a cream smells a bit medicinal, that may be a good thing as the creators have left the formula as is.
Harsh chemicals: Stay away from harsh chemicals including sulfates, phthalates and parabens. There are much better ingredients on the market that do the same job as these chemicals without being harsh on your skin or harmful.
About Donna Marcal
Donna Marcal is a biochemist who has extensively researched inflammation before launching DERMATONICS, a skincare range using natural ingredients that undergo a powerful process which eliminates contaminants.