I am lucky to be able to experience many wonderful spas as part of my job, in fact, I have probably seen more massage beds, slippers and fluffy robes in the past 12 months than most people will in a lifetime. Most of the spas and wellness destinations I see are nice, but only a handful really stands out. Melbourne based Willow Urban Retreat is one of them.
Even if you haven't been to the space on beautiful High Street, just reading through the treatment menu makes it very apparent that this isn't just your average facial and massage parlour. "A crystal grid has been lovingly set into the foundation of the retreat to promote clear and healing energies, restore balance and embody positive vibration," it reads, and so I imagine walking on little bits of rose quartz and amethyst as I enter the room.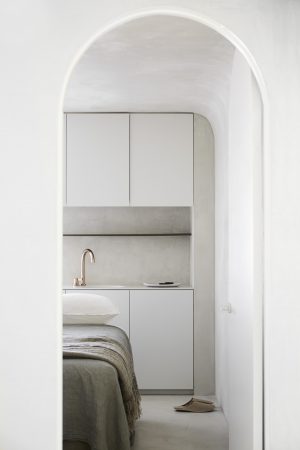 If this esoteric belief in crystals makes you expect Willow to have a hippie-esque aesthetic, you couldn't be further from the truth. The space is modern, minimalist, and basically #interiorgoals. From the green marble wall at reception, to high ceiling archways and rose gold tapware in the bathrooms, this space has been designed with attention to detail.
Willow has partnered with "local architects and design studio Meme, landscape designer Paul Bangay and artisan Maddie Sharrock to create an emotive atmosphere through an understanding of form, materials and aesthetic. This sensory environment heightens your awareness and provides grounding, encouraging you to be present in the moment."
I am here for the retreat's signature massage, but before I'm guided upstairs to the treatment room, I get to enjoy Willow's infrared sauna, which can be booked on its own or as part of a treatment. I slip into their luxurious linen robes and reusable slippers and meet my massage therapist Deb, whose calm voice and genuine smile make me feel relaxed immediately.
The 60-minute massage incorporates aromatherapy oils from Aromatherapy Associates and crystal bowl sounds making this a multi-sensorial experience. It feels like every muscle in my body is being worked on, and all the kneading and the pressure of Deb's hands has me feeling deeply relaxed, so much so that I can't believe 60 minutes are over when Deb gently puts my robe over my legs and tells me to take my time to get dressed.
Outside, she is waiting with a curated wellness tea menu that I can choose from while I make myself comfortable in the beautiful secluded lounge area. Grey and blush pink cushions frame the focal point of the room, a crystal pendant lamp hanging from the ceiling seemingly glowing in the sunlight coming in from the window. Deb serves my tea and a bowl of nuts, and I regret having booked another meeting that afternoon – I would have loved to stay longer.
The massage was bliss, but Willow offers so much more than that. From facials, body scrubs and Reiki, to meditation, Qigong and Barre classes, this place is a one-stop shop when it comes to your wellness and wellbeing. For those feeling they need help on their journey to wellness, Willow offers guided retreat packages, from half a day to six weeks, including treatments, classes, consultations, and even food.
In fact, food is another great focus at Willow with the retreat's very own café next door to the wellness space. The wholefoods café offers nutritious, locally sourced meals prepared on site as well as smoothies, juices, and some really good coffee. The menu was designed in conjunction with a Naturopath to support inner wellbeing, and as I sip on my coconut juice, I'm impressed by the holistic approach of Willow. This isn't 'just a spa' or a fitness studio where you do something good for your body for an hour only to ruin it with a McDonals pitstop right after; this is a space where you come to reset, recharge, and treat yourself to goodness in the form of healthy food, exercise, and relaxation time.
Willow Urban Retreat offers an escape for modern, busy men and women, a balance to our unhealthy lifestyles. The fact it is visually stunning and run by a range of highly qualified professionals makes visits extra special and enjoyable. Every big city should have a retreat like Willow. I can't help but feel a little jealous of Melbournians for having such a special 360-degree wellness space in their city, but thankfully I'm just a 90-minute flight away. I'll definitely be back.