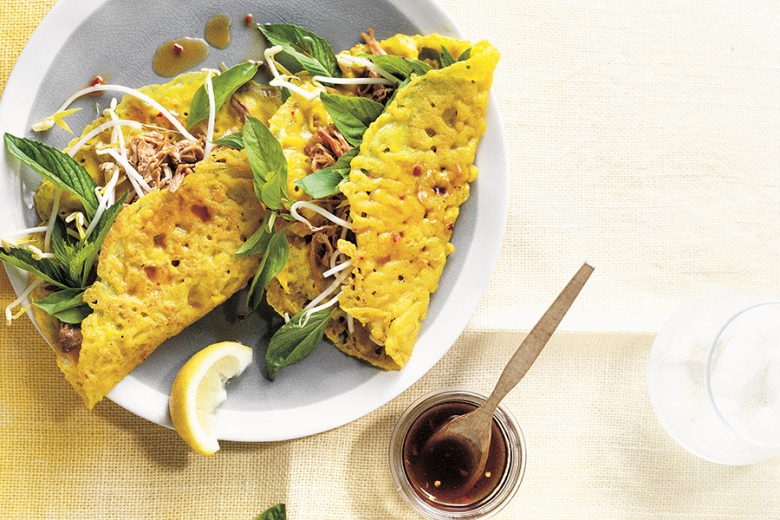 Michelle Bridges, former longtime trainer on The Biggest Loser and famous for her 12 Week Body Transformation program, has released a new cookbook.
Food For Life is about cooking and eating for a lifetime of wellbeing, fitness and pleasure.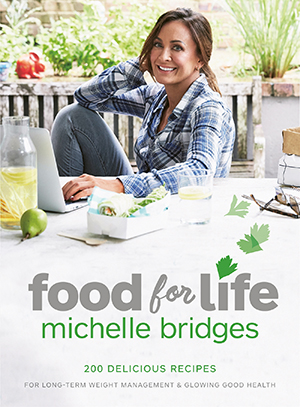 This light recipe is inspired by traditional Vietnamese savoury pancakes. Quick and simple, you can whip these up in 35 minutes, including prep time. Once cooked, they need to chill for one hour.
And there are only 197 calories per serve!
"Sometimes, there isn't time to cook a roast on the weekend," Michelle says. "Plus, pulled pork is readily available at the supermarket."
The pancakes can be adapted for a vegetarian diet by substituting the pulled pork for a plant-based protein.
Ingredients (Serves 4)
½ cup rice flour
1 tablespoon gluten-free cornflour
1 teaspoon ground turmeric
1 × 165 ml tin light coconut milk
½ cup iced water
150 g slow-cooked shredded pork
1 cup bean sprouts, trimmed
1 cup mint leaves
1 cup Thai basil leaves
Coconut oil or olive oil cooking spray
1 small lemon, cut into wedges
1 quantity sweet chilli sauce
Method
Place the rice flour, cornflour, turmeric, coconut milk and iced water in a bowl. Season to taste, then whisk until smooth and well combined. Chill, covered, for one hour.
Combine the pork, sprouts and mint and basil leaves in a bowl.
Heat a small (16 cm) heavy-based non-stick frying pan over high heat and spray lightly with cooking spray. Pour one-quarter of the batter into the pan, tilting to cover the base and a little up the side, and cook, untouched, for 3 minutes or until golden and crisp on the underside
Transfer the pancake to a plate and immediately top one half with a quarter of the pork mixture. Fold the untopped pancake half over to enclose and cover to keep warm.
Repeat with the remaining batter and pork mixture to make four filled pancakes in total.
Serve warm with lemon wedges and sweet chilli sauce
FOOD FOR LIFE by Michelle Bridges is published by Macmillan Australia, RRP $39.99
During her 25 years in the health and fitness industry, Michelle Bridges has focused on breaking down the barriers that block the path to a happier and healthier life. Her highly successful 12 Week Body Transformation is Australia's leading exercise, nutrition and mindset program. She is the bestselling author of 13 books on nutrition and fitness, including Food for Life.