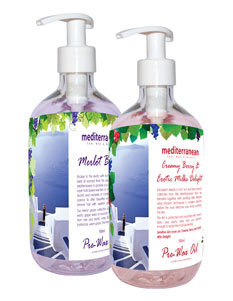 Stand 3618
Mediterranean Wax has become a hot favourite among spas and salons worldwide due to its ever popular use of super fruit extracts and antioxidants.
Be prepared to transform your clients from the ordinary to the exotic with this range of products made from rare and exotic botanicals, warm spices, the best raw ingredients found naturally in the Mediterranean and from exotic locations all over the world.
Mediterranean Creamy Berry & Exotic Milks Delight Range has decadent blends of rich fruit and berry extracts collected from the Mediterranean Basin. They are blended together with soothing titanium, which allows the wax to cling to fine hairs but releases easily from the skin, reducing redness and is ideal for sensitive or mature skin. Blended by using ancient techniques in modern laboratories, Mediterranean delivers the most effective wax. The skin is protected and nourished with berry extracts, making it perfect for facial and XXX waxing.
Mediterranean Merlot Blend Range is a rich blend of exotic grape seed oil sourced both locally and from rare and exotic vines blended with rich botanicals, warm spices and the best raw ingredients to provide a superior antioxidant based wax which contains mica, for a more gentle wax. Discover the secrets and mysteries of combining nature and science to offer beautiful waxes. Created to remove hair with superior grip and flexibility, this wax is strong enough for coarse hair but still gentle enough for sensitive skin.
Both the Creamy Berry & Exotic Milks and Merlot Blend are available in handy 500 gram hot wax pop out packs, 1 litre strip wax tubs and 100ml strip wax cartridges. Mediterranean carries a full range of wax pots, cartridge heaters and all waxing accessories.
Also available are the Mediterranean Pre-Wax Oil, which prevents hard wax sticking to skin ensuring it only grips hairs – minimising skin drag and making waxing more comfortable by causing minimal trauma to the skin. This specially formulated oil promotes soothing properties and rapid recovery of the skin, for even the most sensitive areas.

Mediterranean Pre Wax Oil has solved any problems associated with the waxing of dry, cold and flaky skin by creating a barrier between the skin and the wax, allowing the wax to stay pliable for easy application and removal.

Mediterranean Oil can also be used as a post waxing oil to remove any residue left on the skin; this will also help to sooth, calm and protect the skin after the treatment.

Contact 1300 650 079 sales@mtwb.com.au