Experts say cosmetic procedures for men in the US are rapidly on the rise, and according to the American Society for Aesthetic Plastic Surgery, over 1.3 million male patients received cosmetic procedures last year alone. Although liposuction, eye lifts and anti-wrinkle injections were the most commonly requested of these figures, more and more plastic surgeons are noticing increasing numbers of men going under the knife to receive muscle implants.
These procedures have, according to one US surgeon, seen an enormous growth of over 400% between 2013 and 2017, in order for male patients to achieve more defined abs, arms and calf muscles.
"[Muscle implants] are becoming more popular and in high demand," says Dr. Douglas M. Senderoff, a US plastic surgeon specialising in men's implants. "Male patients are trying to achieve a look that cannot be achieved by diet and exercise alone."
New York plastic surgeon Dr. Douglas M. Steinbrech estimates a 437% percent increase in male implant requests over the past five years, throughout his two clinics; one in New York and another in Los Angeles.
The latest report from the American Society of Plastic Surgeons states that 987 men received pectoral implants in 2017.
The implants are inserted beneath the muscle lining, or alternatively, below the muscle itself. The procedure generally requires around 2 weeks recovery time, and no strenuous exercise for 3 weeks. Temporary muscle weakness may be experienced at first, but the overall strength of the muscle will remain unchanged once healed.
Male implants are made from semi-solid silicone elastomer and, unlike female breast implants, designed to be incredibly durable, cannot leak, and provide the same feel of a regular muscle at rest. For pectoral implants, incisions are made through the armpit to avoid noticeable scars, and calf implants via the backs of the knees.
Experts claim the spike in these types of procedures may be attributed to Instagram, the 'gym selfie' culture and the pressure it applies to men to appear muscular and defined on social media. Some surgeons report a noticeable increase in demand starting from around five years ago, when platforms like Instagram became much more prevalent. Many claim that these pressures are even more intense throughout the male gay community. Miami-based Dr. Sam Gershenbaum, for example, reports that 65% of his pectoral implant patients are gay males.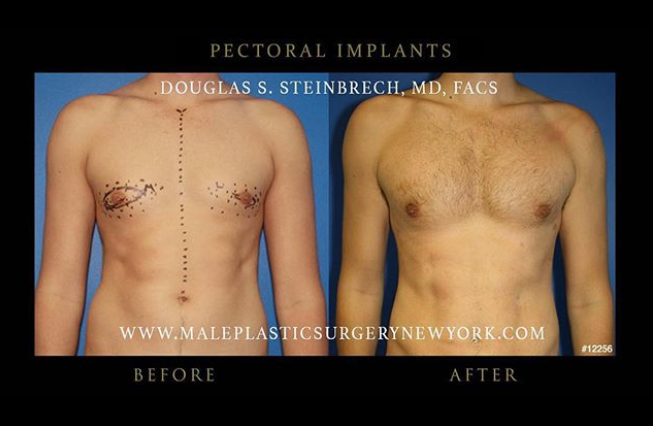 Images via Instagram