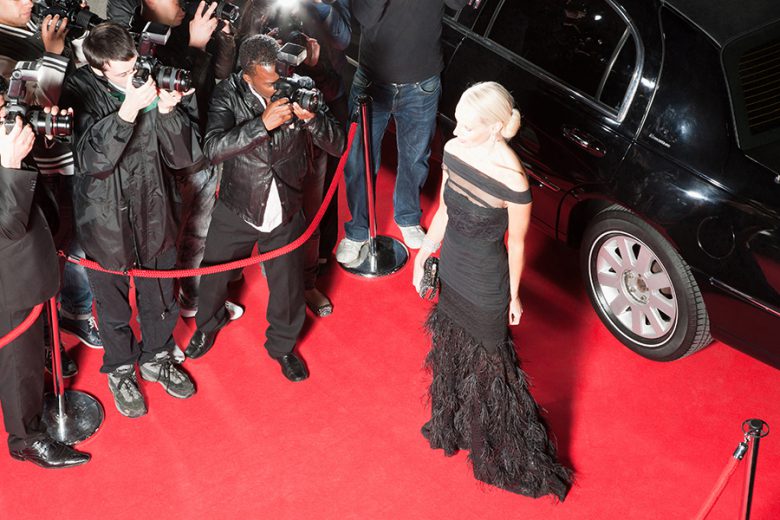 At a star-gazing event like The Oscars all eyes are on the gowns, but there's a lot more to red carpet glamour than couture.
As aesthetics professionals you understand as much as the A-list, that coiff and cosmetics are equally important (not to mention the three-month lead-up of skin and body prep!).
The 89th Academy Awards will take place at the Dolby Theatre in Hollywood on Sunday week, February 26 (Monday morning our time), and will honour the best films of 2016 and the brightest talent in the industry.
To mark the occasion, we take a trip down memory lane and celebrate some of the most memorable Oscars beauty looks of all time.
We see, that like fashion, hair and makeup trends are continually being recycled and made relevant to new generations.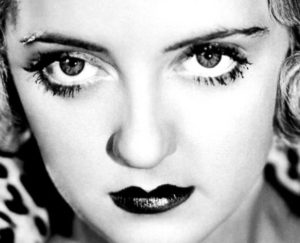 1936 – Bette Davis – Spider Lashes
Some recoiled when models sported clumpy mascara in the Prada and Gucci runway shows of 2015. Others recalled the spidery bottom lash-look favoured by Twiggy and Jean Shrimpton in the 1960s.
But now we travel back even further in time, to when this sultry siren's Oscar look was not only brave, but light years ahead.
Get Bette Davis eyes with Inglot False Lash Effect mascara as the wand is made for precise applaction of product to individual eyelashes. It is extra black, smudge proof and volumises from root to tip.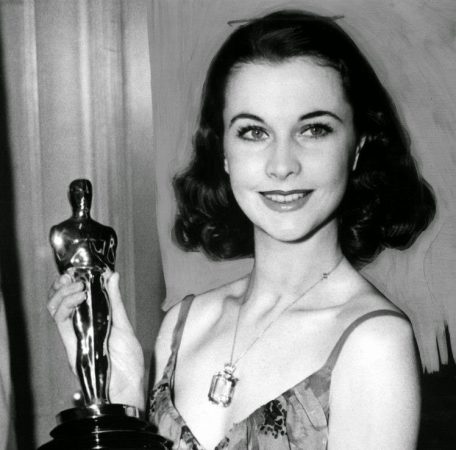 1940 – Vivien Leigh – High Arches
The dear-departed actress took the gong for Best Actress for her performance in Gone With The Wind at the turn of the forties.
And just as the film endures as a much-loved classic, so does Vivien Leigh's brand of retro glamour – her expressive eyebrows, arguably the focal point.
For coquettish, kittenish Scarlett O'Hara-style arches, Sydney makeup artist Alex Rosas recommends using Kryolan angular tweezers.
"You can hold them point-up for precision tweezing, or with point facing down for tweezing shorter fine hairs so you can really get the exact shape you want," he says.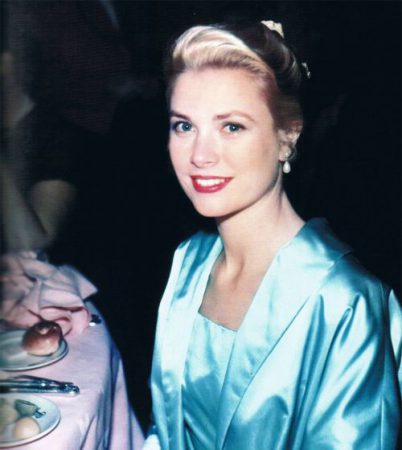 1955 – Grace Kelly – Candy Apple Lips
That year, the breathtakingly beautiful Princess of Monaco accepted the award for Best Actress for her part in Country Girl and her red carpet look on the night has since become one of the most iconic of all time; channelled over the years by countless celebrities, including Gwyneth Paltrow.
But it's hard to recall the ice blue silk of her $4000 Edith Head dress without mentioning how perfectly it contrasted with her juicy candy apple lips. Liane Sicor from Eles Mineral Makeup says this very colour is one of the hottest this season.
"Think of it as a fresh take on red lipstick that's brighter and less serious," she says, recommending the Peony shade in the Eles collection of matte lipsticks, applied underneath a fine layer of gloss.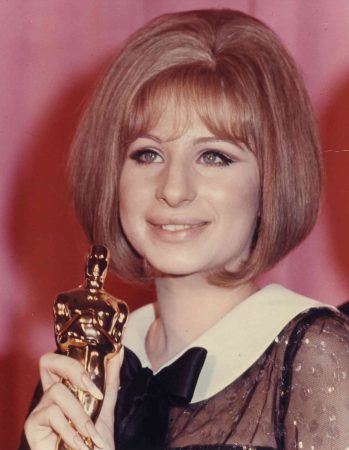 1969 -Barbara Streisand – Mod Winged Eyeliner
Winged eyeliner. Hair-sprayed beehive. The extraordinarily talented singer and actress epitomised the quintessential 60's mod aesthetic when she accepted her Oscar for Funny Girl.
Nowadays, winged cat eyes, deftly drawn with black liquid liner is a classic look favoured by many. Luckily, liquid eyeliners have come a long way since the swinging sixties. So, rather than worrying about having a super steady hand, the Ultrathin liquid eyeliner pen by Blinc Cosmetics boasts the finest nib we've ever seen, making accurate application easier than ever.
1970 – Elizabeth Taylor – Blue Eyeshadow
Dearly-departed Dame Elizabeth Taylor (and her makeup artist) sure knew how to frame those limpid violet irises. And while blue eyeshadow is a rotating trend that makes as many comebacks as it does cringe-worthy fade-outs, it is touted as one of the key colours for 2017.
According to Melbourne makeup artist Chantelle Nicholson, Elizabeth's cornflower hue and sheer wash of colour is perfectly on point for recreating this years' coolest runway statements.
She recommends blending two shades (#351 and #336) in the Inglot Freedom eyeshadow range and applying them with a big, soft, fluffy blending brush.
1971 – Ali MacGraw – Au Naturel Eyebrows
When fresh-faced Ali MacGraw took the trophy for Best Actress for in the epic hit, Love Story, it was her quirky, crochet cap that caught people's attention. And its bohemian, hippie flavour set the tone for the fashion over the decade that followed.
But these days, it's those cute caterpillars that we're copying. No, it wasn't Brooke Shields or Cara Delevingne who pioneered thick, un-tamed brows, but this all-American beauty. The gold-plated pincers in Sharon Lee's Signature Tweezer Capsule are perfect for plucking fine, baby hairs without disturbing the natural shape or arch.
1978 – Farrah Fawcett – Surfer Gal Skin
Those disco hair-flicks might have been fleeting, but the beach-babe tan flaunted by actress Farrah Fawcett at the '78  Oscars never goes out of style.
For a quick fix, a bronzing/highlighting duo like Sunsculpt by Bodyography is essential – applied on both the face and décolletage.
1984 – Cher – Statement Lids
"We're seeing a lot of this eighties inspired rainbow hued makeup on the runways at Paris/London/New York/Milan fashion weeks," says Alex Rosas – so it appears that Cher, in her nonconformist glory continues to inspire the entertainment industry in unexpected ways.
"To achieve this look I'd use the Kryolan Pure Pigments (matte, micronised, colour intense powders) in Pure Thrill (pink), Pure Delight (orange), Pure Cheer (pale blue) and Pure Guilt (purple). Start with an eye shadow primer then apply the pigments to the eye area."
1986 – Audrey Hepburn – Timeless Signature Classics
Despite fierce competition on the red carpet from women more than thirty years her junior, it was the dearly-departed Audrey Hepburn who stole the show in the beauty stakes at the Oscars in '86.
"She always knew how to remain timeless with her hair and makeup and her trick was all about balance," says celebrity makeup artist, Becca Gilmartin.
"Whilst everyone else was playing with a rainbow of frosted colours and deep rouge in the 80's, Audrey always knew how to pull back to suit her individual style.
"Audrey's signature style always featured black eye liner on the upper lash line, which has been blended out here with a mauve shadow along the top of the liner.
"If you were recreating look this now, you would also apply a few individual lashes on the outer corner of the eye with mascara and a beautifully groomed brow.
"My guess is that Audrey simply used a powder compact and lipstick doubling as cheek colour but today we may mobilise all the trappings of high tech makeup to emulate the style, starting with a serum foundation and a weightless blush.
The Babor Age ID Serum foundation and Cream Cushion blush fit this profile perfectly, and have skin benefits well suited to mature skin.
1997 – Winona Ryder  – Brown Doe Eyes 
If anyone makes the 1990s grunge aesthetic ooze gamine glamour, it's Winona Ryder – she proved it at the Oscars, when she opted for a slick of red lipstick, rather than the heavily lined, chocolate matte lips favoured at the time.
But her eye makeup is certainly typical of the post-punk era, (which hinged on blending three or more shades of brown shadow to create the illusion of depth at the crease and define the lashine). And this gradient style is now celebrated for being universally flattering – in fact, it's a K-Beauty cornerstone.
A suite of shadows in varying brown-tones is needed for the look, so a product such the Blinc Shadow Fusion Colour Palette (with its array of flattering, buildable colours) is the ultimate tool.
1998 – Cameron Diaz – Flirty Babydoll
This was the year Cameron's role in Something About Mary left us in stitches while her flirty, cheerful appearance had us swooning – (and snapping up everything pastel pink and fluffy).
"Cameron was able to play with the frosted delights of the 80s on her eyes, yet only apply them to her mobile lid which gave a cute pop of colour, but not enough for her to have makeup regrets later in life," muses Becca Gilmartin.
"Aside from a very minimal base makeup, she's just wearing girl-next-door basics; a sheer pink powder blush, mascara and lipgloss, possibly one of the fruity 'kissing potions' that were all the rage back then!"
And while frosty silver shadows somehow miss the mark, such kissing potions hit exactly the right notes of nostalgia to be relevant now. We love how Eles Cosmetics have reimagined these teen queen glosses in their Colour Balm range but with a modern twist – they're infused  with soothing Moroccan oil and enriched with Vitamins C and E.
2000 – Lucy Liu – Makeup For Monolids
There are an infinite amount eye shapes in the world but until Lucy Liu made her first acid-tongued appearance on Ally McBeal in the late nineties, there was little makeup inspiration for those with monolids – (the term refers to eyes without a defined crease or visible eyelid).
Thankfully, with her winning Oscars look at the turn of the millenium, this all began to change and now there are volumes of special techniques designed to flatter this shape.
"For Lucy's look, start with a light shade all over the lid, such the Desert shade in our Pressed Mineral eyeshadow quad," says Philip Luque, senior educator for Youngblood Mineral Cosmetics.
"Next take Coco in the same quad and apply it to the outer corner of the lid and upwards to open up the eye blending into the Desert colour.
"Then apply our Incredible Wear gel eyeliner in Eclipse to the lash line. Thinner on the inside and thicker on the outside to open up the outer corners.
"Gel tends to be better for East Asian eyes, since most pencil liners tend to transfer from the lash line to the lid."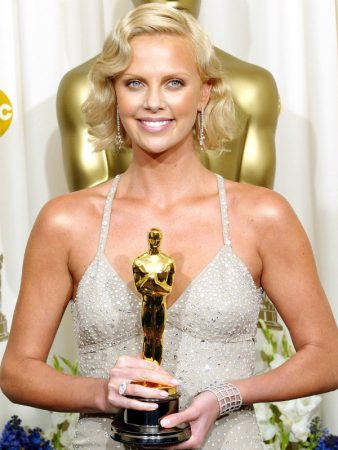 2004 – Charlize Theron – Natural Glow
The South African heart-stopper was awarded Best Actres for her performance in Monster, where she played the role of someone much less stunning.
For this character role, costume makeup artfully disguised Charlize's fine features leaving people around the world marvelling at the shape shifting power of cosmetics – (her natural good looks were barely discernible in the film.)
But when she accepted the Oscar she was more beautiful than ever, seemingly swaddled by an incandescent glow.
To copy her look, a high performance mineral primer with a flaw-blurring-finish, such as this one from Bodyography is essential to prep the skin for soft-focus, natural look foundation.
2016 – Lupita Nyong'o – Ultra Dewy Skin
The Oscar winning actress of Kenyan and Mexican heritage stood out at the ceremony last year, in intricately beaded Calvin Klien couture. But we couldn't take our eyes off her gorgeous dewy skin.
"That's her trademark," Philip Luque confirms. He recommends the cult favourite Youngblood Loose Natural Mineral Foundation mixed with a bit of moisturiser to recreate the finish.
"Minimal makeup keeps her looking eternally young and fresh yet flawless – and to emulate the look it's important to match the shade of foundation exactly.
"Gently buff it into the skin for a luminous and polished rather than high-coverage finish."