The mood backstage at Mercedes Benz Fashion Week was exuberant. Held at the iconic Carriageworks building in Darlington, Sydney, a buzz of designers, international models, hairstylists, makeup professionals and even skin therapists worked tireslesly to achieve runway looks that proved conceptual and artistic.
SPA+CLINIC share the backstage shenanigans behind the scenes of our favourite shows – and the key aesthetic looks to take note of.
Naughty French Secretary @ Michael Lo Sordo
From feel-good, fluid-silk fabrics to relaxed tailoring, Michael Lo Sordo's '17/18 resort collection was a celebration of classic, French sartorial style – but with a kittenish twist.
"Since we opened up the market in Paris four years ago, we've spent a lot of time there and the overall style has been embedded into my brain," said Michael Lo Sordo.
"I started looking at French films from the 1930's, and one in particular, with a coquettish secretary stood out.
"Subconsciously all these elements came together and I always want to make an ode to who the Michael Lo Sordo woman really is – relaxed, beautiful and natural."
A celebration of individualism, the beauty notes, created by makeup artist, Max May, complimented the "easy-chic" sartorial style.
"To create the look of dewy skin, we've really taken time to massage the moisturiser into the skin, used a liquid foundation, and set it using a pearlescent highlighter.
The trendy aesthetic of "Smoked-out" sheer-toned eyeshadow in sunset hues was adapted for all eyeshades.
Four select models sported a bold, red lip on the runway, while the others sported clear, ultra-shiny, gloss.
Slick And Surreal @ Christopher Esber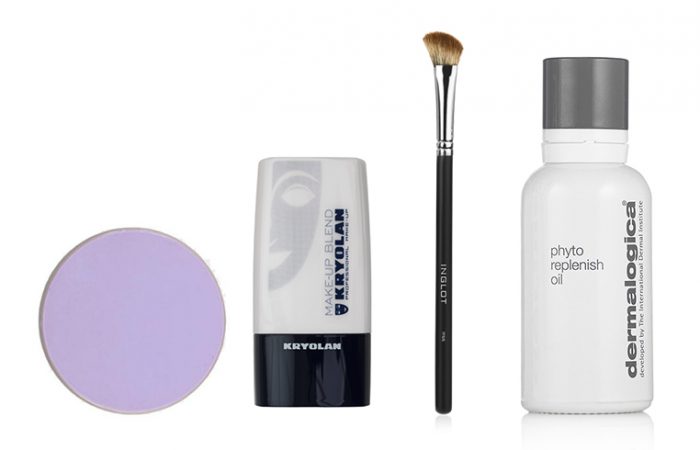 On the runway, Christopher Esber's '17/18 resortwear was a dreamy melting pot of unstructured tailoring and surprising shapes.
The brands' signature utilitarian colours were updated with pops of lemon yellow and lilac, while the surreal vibes were set-off with painterly eyeshadow and conceptual hairstyling.
"Since the collection is all about strong, powerful women, we wanted to make sure the girls look like they were freshly out of the shower," said Paloma Rose Garcia, Redken creative director. "We wanted a look that didn't look completely wet, but would be slicked back, really modern, really raw."
Jodi Ayre, international training specialist at Dermalogica performed the brands' signature 10 minute "Face Fit Service" – a treatment designed to prep the models' skin for smooth (and dewy makeup application).
Besides the dewy skin, eyes were creatively made-up by Kate Squires, vice president of Napoleon who said she was after a "painterly textured look – like we've dipped a brush in a pot of paint and swiped it over the lid", opted for soft grey and lemon yellow hues.
Cyber-Pop Meets Punk @ Zambesi
With shape-shifting hemlines, precise tailoring, and a splash of space-aged silver, the style on the runway of New Zealand fashion royalty, Zambesi's '17/18 resort collection was as avant-garde as ever
Contrasting with the edgy eclecticism on the catwalk, makeup on the models was very minimal, focusing on luminous skin
Hairstyles, on the other hand, were stand-out statements. John Pultiano, creative director at Redken, referenced a bygone post-punk, early-grunge era in his work on each model's hair.
"New Zealand fashion often has a darker mood, so I was very much inspired by Nick Cave circa 1990s' hair," he said.
"The look is sharp, masculine and pressed – in essence, it has a very square shape, but we have softened it up with lots of fly-away pieces around the face.
PAYOT.COM/AU/EN
DERMALOGICA.COM.AU
INGLOTCOSMETICS.COM.AU
JANEIREDALE.COM.AU
KRYOLAN.COM.AU
GILDEDCAGE.COM
REDKEN.COM.AU