How do you know if your new whiz bang business idea will fly? You don't.
You can spend a lot of money testing the water with, for instance, market research and focus groups before going in the deep end. And still there's no guarantee that it's what the marketplace actually wants at that point in time or, indeed, any time.
Or you can forge ahead with blind faith in your idea and sink or swim. Sinking, of course, will cost big-time.
There's another way – getting would-be consumers to shape your idea for you, while helping you pay for it.
That's the concept behind The Divine Truck, a massage therapy room on the back of a truck. It will make massage 'visible' by taking it to popular beaches, corporate office complexes and festivals – or pretty much anywhere potential clients desire.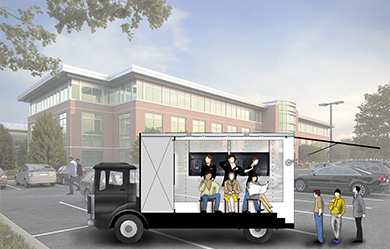 It hasn't been built yet but when it finally happens, the services it offers will be fine-tuned to the wants and needs of its potential audience.
The idea is the brainchild of Andrew Ward, who also came up with 3 Minute Angels back in 2002, a concept that soared because customers paid what they thought it was worth for short massages.
Andrew has also enjoyed success with Angel Massage – a full body mobile massage offering – and Get Angels Now, an app connecting would-be massage customers with spas in their local area that have available space.
This time around, Andrew is taking his idea to the streets for support. Or at least online, with an online crowd funding pitch.
Andrew Ward
For pledges of as little as $1 to as much as $500, The Divine Truck is being pre-sold to customers of 3 Minute Angels and Angel Massage for the next 15 days, converting them from fans of one business to funders of the next. Of course, all comers are welcome to join 'the crowd' if the concept appeals to them.
Nearly half the $10,000 has already been pledged. For pledges of $50 and more, there is a tier system of rewards.
'The truck is cheaper than a bricks and mortar spa or clinic and, with mobility, comes the ability to go where the customer wants us,' Andrew says.
'We think the idea of getting a massage overlooking your favourite place will appeal to a certain type of customer who wants a multi-sensory experience.
'The Divine Truck is not just a stunt or promotional tool. For elderly people who find it more difficult to travel this is a great help.
'The idea is to create a new massage experience and a showroom in one. It will have transparent walls allowing people to see in and the people inside to see out, but has blinds that can make the therapy room private. It will be powered by solar panels that in turn run the air-conditioning and power.
'Wi fi and digital displays mean all sorts of media can be played inside or outside to clients or would-be clients. Being a lightweight truck, any person with a standard license can drive it.'
Andrews ays the beauty of the crow-funding approach is that everyone has a vested interest in making the enterprise a success and so are willing to share their ideas about will and work work or be popular. This in turn helps Andrew and his team to craft the best-possible business model.
'We imagined, for instance, that hundreds of people would be really interested in hiring the truck for a one-hour full body massage overlooking the beach or beautiful scenery,' says Andrew. 'But it turns out that idea has so far only appealed to about half a dozen people.
'It just shows that even if you believe you have the best idea in the world, others may not share that opinion! And when it's your money at stake, you can't afford not to take other people's opinions on board.'