We chat to Thalgo to learn more about treating stressed out skin.
In our modern world and in these very strange times, stress is a reality and manifests in so many ways, not only psychologically but physiologically. With wellness as the antidote to stress now a mainstream consumer need, Nadine Dilong speaks with the Thalgo team to find out more about Thalgo's approach to these interconnected themes with the launch of the new range, Spiruline Boost.
Thalgo is well known for indulgent spa treatments, how has this changed over the years? 
Steeped in over 55 years of history, Thalgo has a storied history and has been known more in recent years for "French luxury" through textures and experiences. While it's nice to be known for luxe, what's really meaningful is that Thalgo was founded on the principles of transdermal application of minerals and at the core of the formulations and treatments has always stood for wellness derived from our largest natural resource, the ocean.
The last few years have seen a return to this brand truth to focus on connecting consumers with their reason for being through two major launches, the first of which is new Spiruline Boost, an energising and detoxifying range designed to support stress.
Stress is a highly relevant topic, can you tell us more about the effects of this?
It's no secret that urban life and behavioural excesses – smoking, alcohol, lack of sleep, eating on the go – combined with psychological stress and environmental pollution expose the skin to high levels of oxidative stress. This overexposure to free radicals and toxins saturates the antioxidant systems and brings about cellular and physical fatigue. Here's how it happens: 
The peroxidation of epidermal lipids increases skin permeability and damages the barrier function. The skin becomes dehydrated, loses its suppleness and resilience and becomes more reactive and sensitive.
The oxidation of skin proteins and hyaluronic acid weakens the skin structures. The skin becomes irritated and wrinkled and loses its bounce.
Mitochondria, the power generators of the cells, are the prime targets of free radicals. Damaged, they produce less energy which is essential to the regeneration of the extracellular matrix and the production of hyaluronic acid. The epidermal metabolism and renewal slow down.
This skin fatigue is estimated to affect 75% of women from the age of 25 as the energy metabolism slows down, triggering a delay the regeneration of skin cells. Less able to recover, the skin becomes less resistant and the signs of fatigue set in including an uneven complexion, sleep wrinkles, drawn features, expression lines and tired eyes. All signs of premature skin ageing process.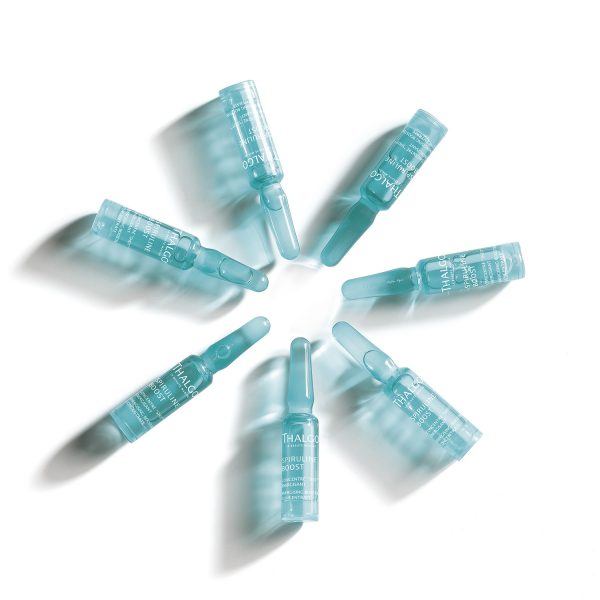 So what can we do to combat this? 
Our expertise is skincare and it's powerful, but it also needs your help. Let's not shy away from the fact that it's hard to change habits and a skincare range. But it's also about not creating more stress trying do a "perfect detox". It's about a kinder, realistic and holistic approach to nutrition, sleep, meditation and watching our intake of alcohol, sugar and caffeine. 
The skincare part is just as important, and superfoods like Spirulina and Chlorella, and minerals like Magnesium are our skincare super heroes. Spiruline Boost uses a powerful extract of energising spirulina obtained through fragmentation which is a mechanical extraction and double enzymatic biocatalysis, to capture the active nutrients contained in fresh spirulina taken from controlled aquaculture. The process ensures the high bioavailability of concentrated active nutrients which are more easily absorbed by the skin. With higher levels of hydrolysed proteins and sugars, nutrients that boost the cell and energy metabolism (ATP), the energising spirulina optimises epidermal renewal and structure, reducing the signs of skin ageing and the impact of urban stress.
The skin is the first line of defence against urban stress and every day, and stress alone consumes more than 50% of Magnesium intake (catecholaminedependent cell loss) with estimates of deficiency in more than 75% of adults in Europe. Magnesium is an essential mineral involved in more than 300 vital enzymatic reactions, including the energy metabolism and production of ATP. Thalgo uses marine magnesium obtained by concentrating sea water – up to 100 times more concentrated. 
Detox has been a bit of a fad for some time, does your skin really need to detox? 
The short answer is yes, but not in the fad-diet way. It's more to give your skin a break and support its natural functioning. When urban fatigue becomes too intense, the body can't keep up and the skin is the first to show the effects. Suffocated, overworked and lacking energy, the body becomes worn out and the epidermis is dulls and lacklustre. The "detoxing" process is more about putting in goodness to replenish what modern life has taken out to support the ecosystem of cells to do their best work.
What's the Spiruline Boost Detox Program? 
It's a 3-step program featuring a treatment, a 7-day "inner & outer" booster program and 28-day daily homecare program.
The Smoothing Detoxifying Facial features an alginate peel off mask which has been clinically tested to reduce polluting particles by 69.5%, including PM2.5 particles. To put this in perspective, the average result on a control area after cleansing was -2.7%.

 

The 7-Day "Inner & Outer" Detox Program is a daily dose of a topical application Energising Booster Concentrate and an Energising Detox Shot drink containing organic Spirulina and Chlorella boosted with Marine Magnesium and natural Vitamin C to help eliminate accumulated toxins and heavy metals.
The 28-day home care program features a Serum, Gel-Cream and Eye Gel, with consumer responses reporting 96% improvement in radiance and instrumental clinical study showing a 45% reduction in the appearance of dark circles. The homecare program can be used as part of a detox program, or ongoing to combat the first signs of aging.

 
Thalgo is known for the wellness benefits in the "art of spa" how does this connect to Spiruline Boost? 
The new launch is predominately focused on facial skin care, but it would be remiss not to talk about what Thalgo's heritage in the transdermal application of minerals in our absolute favourite products, Plasmalg and Micronised Marine Algae (MMA). A powerhouse team used in the spa treatments, they're a great way to create an at home spa experience. Medically patent from 1964, MMA is a 100% pure algae extract and is a wonder-product used to treat rheumatic, circulatory and advanced skin disorders. It's versatile and can be used for a bath immersion, foot soak or face and body mask. 
We can't get enough of it and are so evangelical about it we'd love every skin care professional in Australia to try it. 
READER OFFER : RECEIVE A FREE MARINE ALGAE DISCOVERY PACK: 
Contact BLC Cosmetics on the email below to receive a free Marine Algae Experience Pack containing a deluxe size selection of our best-selling marine-based products, valued at over $150. 
Thalgo is exclusively distributed in Australia by BLC Cosmetics 
www.thalgo.com.au   |   +61 2 8667 4695  |   customerservice@blccosmetics.com