What does your style say about your business?
First impressions matter, particularly in the beauty and aesthetics industry, and this is exactly why many business owners inject a particularly high level of passion, time and funds into creating the perfect aesthetic for their spa or clinic. This is especially important for today's consumer, who is seeking that immersive, sensorial, Instagram-worthy experience when they walk through the doors.
For this reason, we've been chatting to business owners with that wow-factor, whose businesses are particularly stunning, unique or captivating in their own right; picking their brains on their inspirations and visions for their spa or clinic's original look and vibe.
For this installment, we chat to owner & founder of Melbourne's LED express facial bar and all-round skin fitness and wellness mecca, Lisa Vong of Fresh Face Bar.
How did you come up with your salon's aesthetic?
We wanted to create a vibe that did not feel 'clinic-y' and would be comfortable for men as well.  Therefore, our fixtures and fittings mostly have a wood finish. I love how the grains in wood interiors instantly warm up a place and against the green plants, it brings life into the space. Live plants are so important to us as we love how it enhances the air quality, has therapeutic benefits, and of course, visually nice to look at.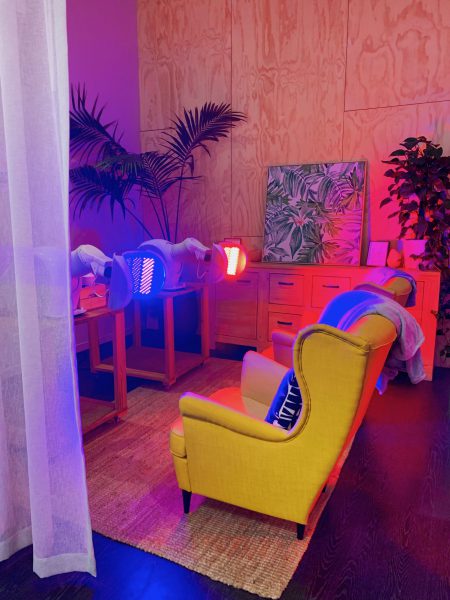 Our colour scheme is bright, to align with our 'skin fit' feel as we want clients to feel energised as much as they feel relaxed.
What did you want the style to say about you?
We want our style to say 'come in, just relax and breathe'.  The vibe of our salon is one where you don't feel like you're in a salon at all, so it's a fusion of a friend's cosy living room with elements from a day spa.
What do you want clients to feel upon entering the space?
We want our clients to instantly feel like they've been transported into a space where they can breathe easy and totally relax.
How large a role do your stocked brands' aesthetics play within your clinic?
Aesthetics is always important, however, we chose brands that we were confident in giving our clients results. We also wanted to work with brands that supported us well – being a new business.
What kind of feedback do you receive from clients?
That they love how the salon feels 'calming and cosy', from our bright couches, textured blankets and choice of 'pop colours' in our treatment rooms.
Any favourite decor and/or furniture items?
Our wooden dining table that sits in the centre of our salon.  I purchased this piece second hand and it was the first time being sold from a lovely family.  It is where we hold our meetings and it feels like a real 'family table' where great conversations are held in the centre of our salon.
If you'd like to see even more stunning interiors, pick up our February issue for our big interiors feature.