We speak to industry leader, Gry Tomte, on the considerations and ethics around expanding your business.
Gry Tomte is certainly not an unknown name within the beauty & aesthetics industry, and it goes without saying that her journey throughout the industry has amassed nothing but success. Gry is the Founder and Director of HÜD Skin & Body, along with her recent venture into high-executive coaching with the Profit + Purpose Concept.
Gry's initial passion for skin was ignited in her early 20's while suffering from chronic skin conditions, which led to a thirst for knowledge to understand what treatments are available, which then led Gry to study skin and biology, uncovering a new found desire to discover how the skin heals – and how to treat it effectively.
Fast forward to now, HÜD Skin & Body has become renowned for 'Changing Skin By Changing Lives', with multiple awards and recognitions being rightfully obtained by the team over consecutive years.
With successes come challenges, and we caught up with Gry to find out her learnings from her business expansion.
Gry, share with us your experience in challenges faced from expanding your brand & business?
Over the years I have experienced both sides of support and collaboration – and, on the other end of the stick, jealousy and exclusion. This happened even as recently as a couple of weeks ago at the awards celebration in Sydney. This made me reflect on what our industry stands for in the face of the expansion of our HÜD brand as we're building another clinic.
A few years ago, a "competitor" went on a bit of a crusade against me and my business. She openly iterated she was "opening up close to us so she could destroy (my) business".
It was tough to hear. And at first I must admit I was hugely triggered.
The fear of someone coming after everything I worked so hard to achieve felt pretty devastating. I clearly remember a day in a co working space In Hawthorn where I had a mentoring session with my mentor. He asked me a question that still resonates with me so deeply. 
He said:
"You've got two options. Either one is perfectly OK from a business standpoint – and there's zero judgment from me;
You can choose to go out on the offensive and do what you can to discredit her and destroy her business back, which some people in the business world absolutely would say is reasonable given the circumstances.
OR…
you can reflect on your purpose (my business exists to change lives by changing skin) and ask yourself whether another business opening up can help you further your purpose and whether that actually makes you even more successful".
It took me a moment, but I decided that if purpose is meaningful to me, then I'd go with the latter.
It was the best thing I did!
It allowed for me to let go of the anger and fear, and wish her well instead. And that freed me from the fear as well, as I started working harder on what makes US special.
Ps. It's been a few years now and it made zero difference to our business….
"The realm of our industry, while competitive, is intrinsically rooted in nurturing, fostering well-being, confidence and life changing results"
It's an industry that transcends commerce to touch the very essence of personal care and community-building.
As both a founder and owner of a skin clinic, and a business and leadership coach in the same arena, my journey has been marked by constant learning and introspection, especially when it comes to scaling my business while maintaining the ethical guidelines I hold so close to me.
At the heart of my philosophy is an unwavering commitment to the community I've built over the years. It's not just about growing a successful business; it's about creating a space where trust, care, and mutual respect reign supreme.
So, as I stand at the cusp of opening a second location for my clinic, I am faced with an ethical conundrum. How do I expand without inadvertently jeopardising the harmony and trust within my own community?
For many, business growth often implies fierce competition and dominance. The traditional model suggests that to succeed, one must overshadow others.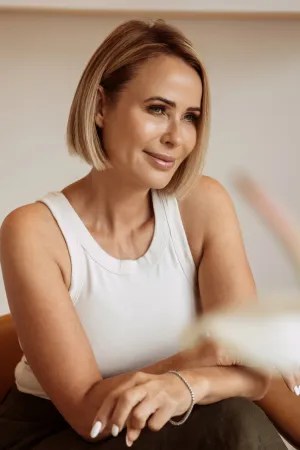 But in an industry where the primary aim is to nurture, create confidence and change lives, can success be defined purely in terms of revenue and market share?
Nope. I don't think so.
I think there's a more nuanced and holistic approach to scaling, particularly in an industry as delicate and purpose driven as ours. My guiding principle has always been to provide value to people's lives – both in terms of the services my clinic offers and the knowledge I impart as a coach.
So when considering expansion, it's paramount for me to make sure that I'm adding value to the community, not detracting from it.
The essence of leadership in our industry, I believe, is to lead with empathy and foresight. If I'm aware of a fellow business that might be adversely affected by my new clinic, it becomes my responsibility, both as a business owner and a coach, to approach the situation with sensitivity. Perhaps there are ways we can collaborate, refer clients to one another based on specialties, or even co-host community events.
"The possibilities are endless when competition is replaced with collaboration"
In conclusion, the path to scaling a business in the skincare industry, while filled with challenges, is also ripe with opportunities to redefine success.
It's a journey where each decision must be weighed against its impact on the community. As I embark on this new chapter of expansion, I'm reminded of the responsibility I carry – to my clients, my peers, and the larger community.
The true measure of success, I believe, is not just in the number of clinics I own or the revenue they generate, but in the positive impact and lasting legacy they create within the community for the people we hire, the clients we serve and the community of business owners.
By upholding these values, I hope to set a precedent for others in the industry, proving that growth and ethics are not mutually exclusive, but can, in fact, beautifully coexist.
Read the latest issue of SPA+CLINIC below:
There are 5 ways you can catch up with SPA+CLINIC
Our quarterly print magazine, delivered to your door. Subscribe here.
Our website, which is updated daily with its own completely unique content and breaking news.
Our weekly newsletter – free to your inbox! Subscribe here.
Our digital magazine – click here to view previous issues.