What was the weirdest location you've ever had a beauty treatment at? Maybe you've had a massage on a secluded beach at a holiday resort, or you (regretfully) decided to have a manicure in the middle of a bustling road somewhere, but have a you ever indulged in a spa experience in the middle of the ocean?
Celebrity Cruises have just unveiled their new piece de resistance, The Spa, on their luxurious cruise ship Celebrity Edge, set for their maiden voyage later this year. Boasting marble, black and white tiles, and lush greenery, the spa offers cruise guests over 124 treatments and provides a distinctive sensory experience, uncompromising service and a variety of wellness options that have never before been seen on sea.
Treatments include the Ocean Spa Wave Massage, Hot Mineral Body Boost, Poultice-Powered Muscle Release, Zero Gravity Wellness Massage, as well as injectables, detox wraps, and facials using Elemis products.
Created in collaboration with world-renowned designer Kelly Hoppen, The Spa is inspired by the soothing elements of nature and Celebrity Edge's mantra of bringing the destination closer to guests.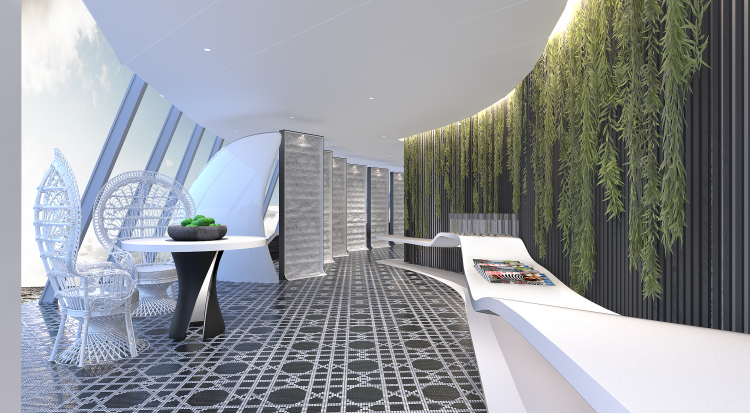 "Our aspiration for The Spa was the same aspiration we have for Celebrity Edge – to provide our guests with a deeper and more profound connection to the sea," said Lisa Lutoff-Perlo, President and CEO, Celebrity Cruises.
"To start the revolution in relaxation, we turned once again to the visionary Kelly Hoppen to completely transform the spa experience and develop an atmosphere that envelops you in luxury and soothes your soul from the moment you walk in."
Gone are the days of dark, small rooms on cruise ships. The Spa boasts of natural lighting evoking a sense of calmness.
"Every aspect of the design is meaningful to me; from the dramatic crystal installation – which was inspired by the qualities that crystals have had on my life – to the imposing and dramatic, yet Zen sculpture acting as a reception desk," said Hoppen.
Besides the spa, a fully equipped hair salon, a relaxation lounge, and a fitness center invite guests to make the most of their time on Celebrity Edge.
Celebrity Edge will spend her inaugural season sailing alternating seven-night eastern and western Caribbean cruise itineraries before transporting guests to the stunning vistas of the Mediterranean with a range of seven- to 11-night sailings from iconic cities like Barcelona and Rome in 2019.
Homeporting and cruising from Fort Lauderdale, Florida, Celebrity Edge will be making her first sailing on December 1, 2018. Bookings are now open at www.celebritycruises.com/edge, or through a travel agent, and spa reservations can be made at www.celebritycruises.com/edge/spa/. Celebrity Edge will be joined by three sister ships in 2020, 2021 and 2022.