Sydney-based author and nutritionist Vladia Cobdrobva develops recipes for one of Australia's pioneer health-food grocery stores, About Life.
About Life stores are wholefoods supermarkets famous for their "simple goodness" food philosophy. Their bustling premises are packed from floor to ceiling with an extensive array of fresh produce.
Vladia bases her recipes around the produce in-season in season at the time. She shares her tips for hearty winter cooking and her recipe for ginger and tomato soup with SPA+CLINIC.
What are the health benefits of seasonal eating?
Seasonal eating is not only great for your taste buds but you also get to eat fresh amazing produce at its best. Nature is pretty smart – in winter the root veggies are in season to use in beautiful bakes, stews and warming soups, my favourite is spicy ginger & tomato soup. This soup is packed with antioxidants and its vibrant colour is rich in betacaroteinoids – these support our immune system very much needed in winter months
What's in-season right now?
Oh so much – apples and pears packed with vitamins for immunity. Fennel great for digestion. I love using cauliflower in my nutritious take on macaroni cheese to make the most of this great winter veg.
There are so many ranges of potatoes and if you love potato salad the one in may book is made with tahini turmeric dressing- pretty clever if I say so myself, not using any mayonnaise.
Which cooking method winter eating and why?
Baking and roasting. I am also a big fan of slow cooking, the flavours are so rich and satisfying to warm you up. The depth of flavour you get from slow cooking is amazing and it also minimizes the heat damage on vitamins – another one of my favourite methods is massaging kale ha! That's actually a thing – massaging kale is essentially pre-digested kale – raw kale is hard to digest as it comes from cabbage family and by massaging it with olive oil and apple cider vinegar we are staring that digestion process before it goes into our own digestive system.
What are About Life customers buying up big on at the moment?
Definitely have noticed turmeric sales increasing -fresh turmeric looks like ginger but with a bright yellow colour inside and it stains all your clothes apart from that this is an amazing herb for building immunity. It is antiviral and anti-inflammatory. And it's great with scrambled eggs!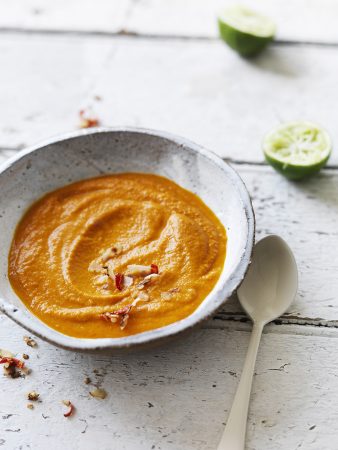 SPICY GINGER & TOMATO SOUP
"The vibrant colour of this rich, antioxidant soup speaks for itself," says Vladia. "You can really see the betacarotenoids in it.
Prep time: 15 minutes, cooking time: 20 minutes.
Recipe is vegetarian, vegan, gluten-free, dairy-free.
Ingredients (serves 4)
1 tablespoon coconut oil
1 large red (Spanish) onion, finely chopped
100 g (3½ oz/½ cup) coarsely chopped fresh ginger
6 carrots, chopped
2 x 400 g (14 oz) tins chopped tomatoes
375 ml (13 fl oz/1½ cups) tinned coconut milk
20 g (¾ oz/1/3 cup) chopped coriander (cilantro) leaves (optional)
Crispy topping:
2 teaspoons coconut oil
2 fresh long red chillies, sliced
2 teaspoons chopped fresh ginger
40 g (1½ oz/1 cup) coconut chips
Method:
Heat the coconut oil in a saucepan over medium heat.
Add the onion and ginger and cook for 2–3 minutes until golden.
Add the carrots, tomatoes and 375 ml (13 fl oz/1½ cups) of water and bring to the boil.
Simmer for 15 minutes or until the carrots are very tender.
Stir in the coconut milk, then remove from the heat.
Using a stick blender, purée the soup until smooth.
Season with salt and pepper.
Meanwhile, to make the crispy topping, heat the coconut oil in a frying pan over medium heat.
Add the chilli, chopped ginger and coconut chips and stir for 5–6 minutes until crisp.
To serve: ladle the soup into four bowls, scatter with the crispy topping and coriander leaves (if using), then squeeze a lime over.
Vladia Cobrdova's recipe is from her book: A Whole New Way To Eat. From humble beginnings as a juice bar with some basic wholefood grocery items, About Life has grown into eight natural wholefood stores across Sydney and now Melbourne.
*Images and recipes from A Whole New Way To Eat by Vladia Cobrdova (Murdoch Books RRP $39.99)