Fiona Tuck is devoted to exposing food and diet misconceptions, actively seeking to help people recognise their own nutritional deficiencies and educating them on how to correct these for better health.
With more than 25 years of experience in the health and wellness industry, a qualified nutritional medicine practitioner, skincare expert, yoga teacher and accredited member of the Australian Traditional-Medicine Society, Fiona's expertise and insight make her a sought-after media wellness expert.
She regularly provides commentary for TV and radio and writes articles for national online and print publications.
We share her recipe for Cauliflower Pizza (replacing the traditional carb-laden crust with cauliflower crumbs – delicious!) from her new book, The Forensic Nutritionist.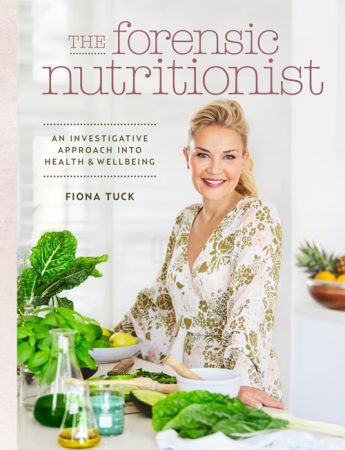 INGREDIENTS
1 cauliflower, stems removed, chopped
1 egg, beaten
½ small brown onion, finely chopped
3 tbs almond meal
1 tsp dried mixed herbs 1 tsp olive oil
Topping
2 tbs tomato paste
1 zucchini, finely sliced lengthways into ribbons
½ capsicum, deseeded, cut into very thin slices
1 tbs pitted and sliced black olives
4 tbs crumbled feta
METHOD
Preheat the oven to 200°C. Line a large baking tray with baking paper.
Steam the cauliflower until just tender, then place in a blender and blend until it resembles crumbs. Place the cauliflower in a clean tea towel or piece of muslin and squeeze out any excess liquid (this will prevent the pizza base from going soggy).
Place the cauliflower in a bowl and mix in the egg, onion, almond meal, dried herbs and olive oil. Season with salt and pepper.
Place the cauliflower dough in the centre of prepared tray. Place a second sheet of baking paper on top and use your palms to flatten into a thin circle.
Bake for 20 minutes or until the base is firm and crispy.
Remove from the oven and top with the tomato paste, zucchini, capsicum, olives and feta. Return the pizza to the oven for a further 10 minutes.
Remove from the oven and serve.
Serves 2
Says Fiona: Assists with weight management, digestive issues, liver health and blood sugar imbalance.
The Forensic Nutritionist is available at leading bookstores, health food stores, and FIONATUCK.COM, RRP $39.95.