Chances are, you talk about health and wellbeing to your clients all day every day, after all, true beauty starts from within. But are you taking good care of yourself? Practice what you preach should always be in the back of your mind.
As an official sponsor of the Australian Open, Blackmores is empowering Australians to take control of their health and wellbeing. To help inspire you to take a step in the healthy direction, Blackmores Naturopath Danielle Steedman shares her weekly wellbeing journey:
"Incorporating wellbeing into your daily life doesn't have to be daunting! In fact, practising and achieving wellbeing – whether it be daily movement, healthy eating habits or mindfulness – is all about seamlessly working it into your daily routine. At the end of the day, that's what will help turn a short term goal, into long term habits, which is the very essence of wellbeing."
Monday:
A well-balanced diet is important for energy to give your body the fuel and nutrients it needs. Focus on eating nutrient dense, good quality fresh foods. I really like to start every morning with a homemade breakfast with protein and lots of good fats, such as avocado. This sets my mind and body up for the day and the protein helps me stay full for longer. I also include a coffee in my day.
My diet is largely vegetable based, with lots of lentils, beans, tofu and tempeh. I always opt for one, if not two, salads a day, which the warmer days and seasonal produce really lends itself to. I also have fish at least twice a week, which can be a great source of omega 3 essential fatty acids.
Drinking water is also very important. A well hydrated body has heathy circulation and drinking throughout the day can help to prevent dehydration, which may leave you feeling fatigued.
Tuesday:  
Regular day time snacks are important, as long as you are choosing healthy, nutrient dense snacks, such as raw, unsalted nuts and seeds, or fresh fruit and vegetables. My go-to mid-morning snack is a boiled egg with avocado, which keeps me going until lunchtime.
Physical wellbeing is all about getting your body moving daily, whether it be a walk with nature or joining a group activity, such as yoga. You can even get up with the sun and do some early morning exercises. I try to do two to three classes a week and I find doing them during my lunch break works best for me. A group environment can be really worthwhile for motivation, developing relationships and helping you stick to it for the long term.
Wednesday:
Taking some time out for yourself during the day can be a great way to refresh and reenergise and this doesn't just have to mean sitting at home by yourself.
I find taking my dog for a walk regularly really helps clear my mind and connect with nature. It's a really effective way to be present, without thinking about any responsibilities or demands waiting at home or at the office, and it's a great opportunity to be at rest with your mind and yourself.
Getting enough good quality sleep also works wonders for refuelling your energy levels and allowing your body and mind the time to rest. I aim for around seven to eight hours each night.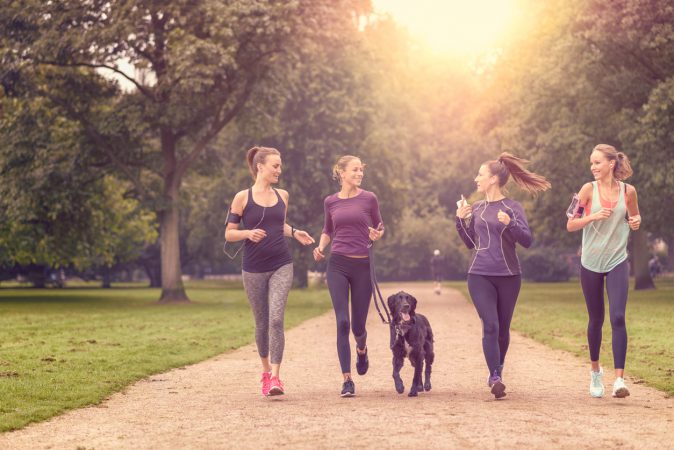 Thursday:
Smartphones and technology have opened up a whole new world when it comes to exercise and practising mindfulness and have made it so much easier to incorporate regular movement into our daily routine. From running apps focusing on specific training goals, to ones which help practice mindfulness, there's an app flexible and personalised enough to meet everyone's health and lifestyle routine.
At the moment, I'm really enjoying incorporating daily yoga practises at home. Having this accessible via an app makes it really convenient and means there's always a yoga class or exercises suited to my level and style within reach. I also find yoga can be the perfect mind body exercise, as it can help develop physical strength, whilst also supporting a healthier mindset.
Friday:
What you put on your body is actually just as important as what you put in it!
I like to make conscious decisions about what is applied onto my skin, hair, face etc. I use sunscreen every day for instance, but I choose a natural variety to nourish my skin as well as protect it. I use natural deodorants (it took a bit of experimenting but I found ones that work great!) and all natural based body care products including toothpaste. I think it's important to reduce exposure to chemicals on our environment, so I take the time to research and choose products that are gentle on my body and the environment.
Weekend:
I truly believe planning and preparing your meals are key to making the right choices when it comes to food, and the weekend can really be a great time to do just that. I really enjoy visiting the farmer's markets on the weekend, as they're ideal for sourcing fresh, seasonal produce and supporting the local farmers.
I have also found home delivery services can be really convenient, especially for the busy person. I usually order a fruit and vege box, delivered to my home, so I always have wholefoods on hand and means I am less likely to resort to processed, packaged foods.
Wellbeing is about finding joy and balance in living a healthy lifestyle, and this also includes making time to socialise and catch up with friends and family. The weekend for me is all about being outdoors and unwinding with friends and family.
Whilst this is my approach to living a life of health and wellbeing, everyone's lifestyle and routine will be different. If you're starting your wellbeing journey or just simply looking for areas of improvement, make sure you're formulating an achievable plan that you'll be able to turn into lifelong habits.
 About Danielle Steedman
Danielle Steedman has been a practicing Naturopath for more than 17 years, with time spent in clinical practice in Australia and the UK, and working in various corporate environments in education, training and product development.  With a balanced approach to health, Danielle's naturopathic philosophy is to educate patients through dietary and lifestyle choices and support healing with nutrition and herbal medicine. Danielle is a Blackmores Wellbeing Coach.  To start your wellbeing journey and get your personalised health plan, visit the Blackmores Wellbeing Check at www.wellbeingcheck.com.au