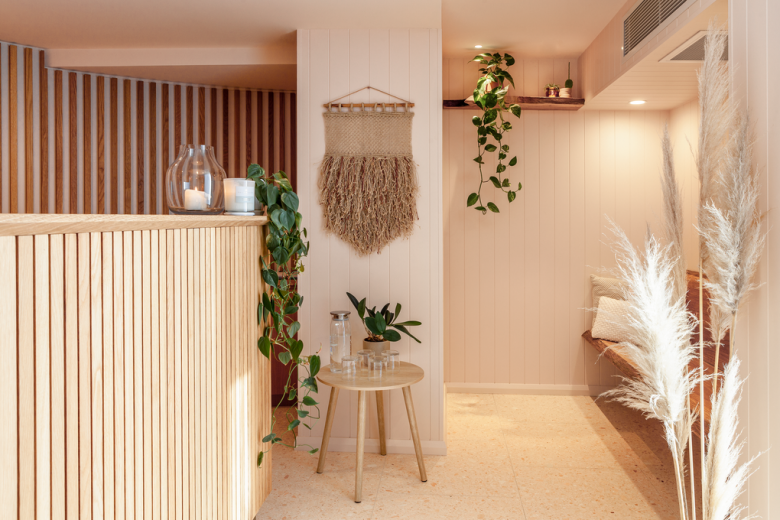 Boutique hotel group Bannisters has just launched their latest venture, raising the already incredibly high bar for hotel spas here in Australia, with the opening of Spa Bannisters, Port Stephens.
The breathtaking spa has been created by acclaimed interior designer Romy Alwill, who has put together a space of peace and tranquillity designed to offer guests a warm, nurturing environment filled with blush and nude tones, warm materials of brass, and timber. She is also responsible for most of the design of Bannisters, which opened during November last year.
The spa's interiors carry along the inspiration from the hotel's Palm Springs vibe, and house five decadent treatment rooms. Three of these accommodate for couples treatments, as well as featuring outdoor rain showers.
Alwill says, "With a subtle nod to the Palm Springs's style, we wanted to create a warm and nurturing spa environment, that also feels fresh, light and uplifting. It was imperative to keep the visual connection throughout the hotel, so we incorporated curved timber battened walls, with warm materials of brass and rattan, as well as the colour palette of pink and nude tones."
Currently in the soft-launch phase of opening, the spa is offering a limited menu until their complete treatment menu is rolled out alongside the official launch at the end of this month. Guests are already able to enjoy a range of massages, spa manis and pedis, and facials such as detox clay, anti-ageing, AHA and lactic acid enzyme peels. Treatments utilise some of Australia's best organic spa ranges, such as Organic Spa, and KORA Organics; supermodel & entrepreneur Miranda Kerr's skincare line.
In a clever design move, the spa is tucked away in a corner of the resort, so guests are able to enjoy some zen time out before returning to the hubbub of the main hotel, where they can treat themselves to a dip in the picturesque infinity pool and bar area or a spectacular seafood dinner at Rick Stein's namesake restaurant. The hotel itself has preserved and refurbished the bones of the old Salamander motel, instead creating a vibrant four-star hotel experience surrounded by water, koala habitat and spectacular coastal views.
For more news and updates, subscribe to our weekly newsletter.