There is a life changing device on the market to treat axillary Hyperhidrosis (excessive underarm sweating) that, despite its popularity overseas, only a handful of clinics in Australia are currently offering.
The treatment is called miraDry, a device which uses microwave energy to permanently eliminate sweat glands. As the body contains around 2 million sweat glands and only around 2% of these lie in the underarm region, removal of these does not affect the body's ability to cool itself.

One of these Aussie clinics currently using and loving miraDry is Dr Leana Teston, whose clinic is based in Bankstown in Sydney's south. Dr Teston is a Plastic, Reconstructive and Cosmetic surgeon, a member of the Australian Society of Plastic Surgeons (ASPS), the Australasian Society of Aesthetic Plastic Surgeons (ASAPS), and an international member of the American Society of Plastic Surgeons. She is also head of the Department of Plastic Surgery at Bankstown Public Hospital, and aside from her clinic in Bankstown, also operates from St George and Kareena hospitals and Bankstown Day Surgery.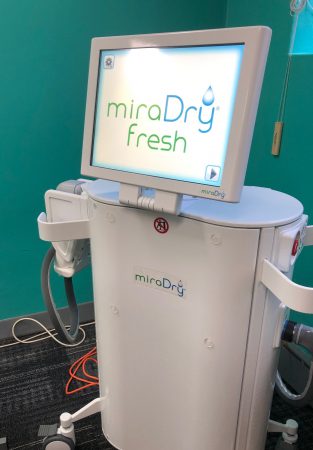 Dr Teston has been using miraDry to treat excessive sweating for around 9 months now, and is thrilled with the patient results. "It's a great idea, there's nothing else around like it, the only other thing for axillary Hyperhidrosis is [botulinum injections] and that will only last 6 months before it needs to get done again. The machine is fully computerised, and delivers microwave energy to the lower level of the skin where the sweat glands are. It has a cooling surface so it doesn't burn the skin, and delivers the heat underneath, and kills them off. 85% of people get an 85% reduction in sweat permanently." Sometimes a second treatment is required for full elimination, but Dr Teston tells us that so far, she hasn't had to do any patients twice.
The area, as Dr Teston says, gets heated to around 70 degrees to effectively destroy the sweat glands, so there will be some pain following the treatment, but the post-procedural care is quite simple. "It does have some side effects, you are going to get quite swollen under your arms as it is, after all, a burn, it's just to the deeper tissue," she says. "Some people feel like they've got golf balls under their arms, some don't get it that badly. The first 48 hours are quite sore. It's a good Friday treatment so you have the weekend to recuperate. Alternating Neurofen with panadol is a good combination. Some people like to use an antibiotic ointment on the area but it's not essential, if you were to get very red and inflamed on the surface then you might need a course of antibiotics but I haven't had that happen yet."
"For most patients, by about the third day, the pain is going, but you will still have swelling and may find it's a bit sore to stretch. I don't suggest any vigorous exercise or gym during the first 48 hours, we give some ice packs to take home and apply, just like any burn. Worse complication that could occur is some fibrosis. To prevent that, stretch regularly, and massage the area as the swelling comes down, just like any surgery. People don't get too much bruising which is great."
The procedure is a fairly simple one, but moderately lengthy, lasting around 1.5 hours. The initial setup and preparation of the area is the most time consuming component. First, each underarm is assessed, with a stencil placed on the area and the skin marked in order to attain a treatment zone and dimensions. Practitioners can assess this based on hair follicle locations. These dimensions are entered into the miraDry device, and can be customised on each side, as not all patients will be symmetrical. Local anesthetic placement will also be determined from this stencilling process.
Once local anaesthetic is administered and sensation tested (the patient should be completely numb across the treatment zone) another miraDry stencil, which is printed on transfer paper (like a tattoo stencil) is applied to the skin, which will provide practitioners with the exact placements to follow with the device head. Once all settings have been entered into the miraDry device, including treatment strength, and skin has been lubricated, the treatment can commence.
The actual treatment phase is surprisingly simple and pleasant for both practitioner and patient. After the device head is placed in the appropriate position and the button is pressed, the device head suctions gently to skin and begins its heating phase, lasting around 20 seconds, followed by a cooling phase of around 10 seconds, before moving on to the next section and repeating until complete. Your patient will barely feel a thing throughout, and will even be soothed by gentle meditation-style music emitted by the miraDry device during each phase.
"It's very easy to use, even easier than laser. It's got all the fail safe machinists built into it. It's basically foolproof."
Dr Teston has even noticed some unconventional positive side effects of the treatment. "Some patients experience a reduction in hair growth, because it's targeting the level where the hair follicles lie. I also had one patient who had massive weight loss and a lot of stretch marks in her axillar – after treatment, the stretch marks improved."
Because the treatment is still relatively new here in Australia, Dr Teston says the awareness around it is still quite low. "It's something that a lot of patients don't know about," she says. "Ideally we'd like to perform 1-2 patients per month. We're hoping for word of mouth from people coming in for treatment to make things happen."
For more news and updates, subscribe to our weekly newsletter.