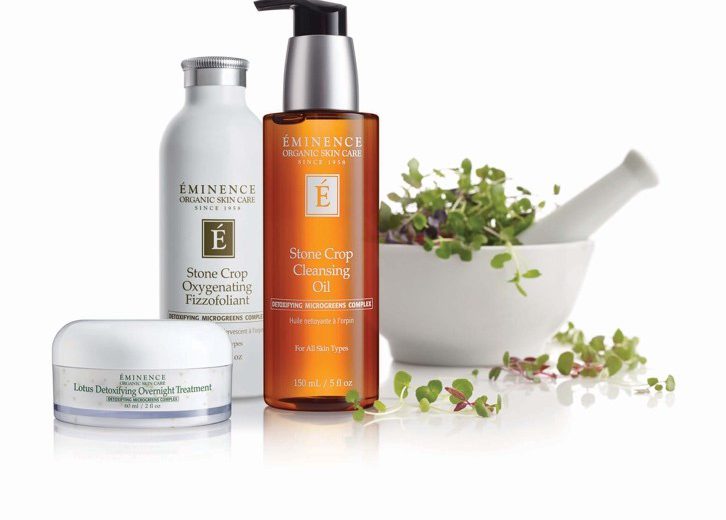 Here are 7 wonderful reasons why:
1. ORGANIC WITH RESULTS
Heavy on results, light on footprint.
We use only the most powerful ingredients from organic and Biodynamic® farming practices that heal the earth, whilst specifically targeting every skin condition.  Through product innovation we've taken natural ingredients to a whole new level by incorporating botanical actives that mimic, and often outperform the synthetic variant without the inherent side effects.
Natural Retinol Alternative™  is an immediate lifting and tightening agent containing chicory root and tara tree gum. This unique complex sequentially releases oligosaccharides that have a beneficial effect on epidermal and dermal metabolism, much like conventional retinol. In fact, users of this Natural Retinol Alternative will get a 25% increase in collagen content after 6 days vs. a 17% increase with conventional retinol.
Natural Hydroquinone Alternative is an active that brightens skin using African potato and tara tree. Like hydroquinone, these ingredients work on the tyrosinase enzyme by reducing and hindering activity. These actions reduce the production of melanin and work against hyperpigmentation, fading the look of age spots and freckles, while promising a smooth, even complexion.
Smart Collagen+ Complex™ is an intelligent collagen booster that doubles collagen density to visibly lift and fill wrinkles. Formulated with cruelty-free collagen, natural concentrated plant peptides and sustainably sourced algae, it works to activate the body's collagen production and encourage the formation of higher quality 'smart' collagen.
Have you experienced the international cult favorite Blueberry Detox Peel? Loaded with paprika for a spicy detox blast, it leaves you with the most radiant Eminence glow!
2. WORKING IN PARTNERSHIP WITH OUR SALONS AND SPA PARTNERS
Eminence prides themselves on working closely with every Spa Partner to help them grow their business and achieve their goals of increased profitability. We provide tailored solutions that are geared towards every spa partner's specific business needs.  All Eminence Spa Partners have a highly skilled and dedicated Business Development Manager to ensure that  this happens seamlessly.
"I want to commend Eminence Organics Australia for their genuine response time, care for small businesses and hearing us. Eminence Organics has truly stuck to their integrity and made a loyal client out of me. I only have love and gratitude for this company and love that they are aligned with my values"  Vena Osman, Owner Elsternwick Beauty Lab
"I am impressed by how Eminence has supported their salons and spas (during the peak COVID-19 crisis). We have had constant contact through this entire time, which has been so refreshing and reassuring. We love this company" Junia Kerr, Owner Sage Beauty
"It has been so enjoyable and lovely to deal with Eminence Organics especially through the COVID-19 mandatory shutdown. Well done in holding your partners' hands throughout such an uncertain time" Amanda Sosnovsky, Owner Spa Semiyahn
3. AWARD-WINNING PRODUCTS
Eminence Organics has been voted Favourite Company for Product Education AND Favourite Skin Care line for 10 and 11 years consecutively. With over 8,000 total votes cast, we are deeply humbled to be chosen by beauty professionals in our field.
4. AWARD-WINNING EDUCATION
Building professional knowledge through education is a major tenet of Eminence Organics, and we continuously strive to excel with our education and training.
5. FORESTS FOR THE FUTURE
Buy a product. Plant a tree.
Our Forests for the Future Program, in partnership with the non-profit organisation Trees for the Future, helps train farmers in developing countries on how to build productive and sustainable Forest Gardens. We plant a tree for every product sold.  Passing a milestone of planting over 14,000,000 trees, Eminence is proud to be able to continually contribute to the development of these Forest Garden Projects.
6. EMINENCE KIDS FOUNDATION
We believe that providing organic, locally sourced and nutrient-rich foods for seriously ill children is an essential part of their treatment, to aid in their healing and long-lasting health.  Since launching the Eminence Kids Foundation in 2013 we have donated over 100,000 nutritious organic meals to children and families in need.
7. LOYAL AND ROYAL CELEBRITY FOLLOWING
Eminence has found a loyal following across the world which includes A-list celebrities such as Jennifer Lawrence, Laura Dern, Mark Ruffalo, Channing Tatum, Kristen Bell, Chris Hemsworth, Vanessa Williams and more.  Hungarian skin care is legendary and has evolved from serving European Royalty to Hollywood's stars and guests at some of the top spas and retreats around the world.
Interested in finding out more about this award-winning brand, and securing a free gift?