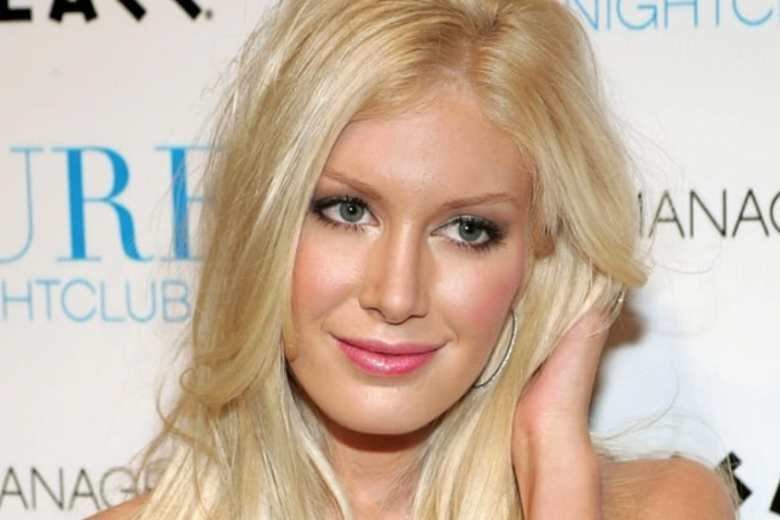 In a new interview with Paper magazine, former Hills star Heidi Montag has now revealed that her heart stopped beating during her drastic cosmetic makeover back in 2009, when she was just 23 years old.
Her controversially large list of surgeries consisted of ten procedures, including breast augmentation, fat injections, liposuction, brow lift, chin refinement and ear pinning, which were all performed on Heidi within a period of 24 hours.
Despite plainly obvious health risks associating with such a high volume of plastic surgery in a single day, Heidi's doctor Frank Ryan, now deceased, argued that many of the procedures such as the anti-wrinkle injections, neck liposuction and the mini brow lift, were "things we can do in the office in a matter of minutes."
Over eight years later, Heidi has now professed that not all went smoothly on the operating table. "I died for a minute," the 31-year-old recalls. "With that much surgery, I had to have 24-hour nurse care and Spencer didn't want to leave my side. I was at a recovery centre and had Demerol to deal with the pain because it was so extreme."
The actress recalls the harrowing details of the moment staff contacted her husband to give him the news that Heidi would not survive the procedures.
"My security guards called Spencer and told him, Heidi's heart stopped. She's not going to make it," she says.
"I easily could've [died]. Cutting yourself up isn't something I'd recommend, and Demerol isn't anything to play around with. That's how Michael Jackson died."
Reports claim that Heidi had already undergone breast augmentation before, and that a second enlargement went ahead even despite her surgeon recommending against it.
These events further highlight the need for thorough consultations between plastic surgeons and their clients, setting realistic expectations and determining a client's true goals and motivations. The request for multiple procedures may present evidence of Body Dysmorphic Disorder, which currently affects 1-2% of the population in Australia.
Unfortunately, Australian cosmetic surgeons are not currently required to screen for Body Dysmorphic Disorder, and information on the condition is not widely made available by the majority of providers. Experts are now calling for the introduction of tougher regulations.
"Screening should be mandated for people seeking any cosmetic procedure that might be seen as 'enduring'. This includes surgical procedures," says David Jonathan Castle, chief of psychiatry at The University of Melbourne. "To not screen and then deliver cosmetic procedures to people who may have body dysmorphic disorder goes against the medical dictum 'first do no harm'."