These days, it's not only big corporations paying key individuals for product placement.
As a matter of fact, the buzz on the topic of social media influencers among owners of spas, salons and clinics is palpable.
It's clear that businesses of all sizes are intertested in engaging the voices of authority that inspire the purchasing habits of their target unique audience.
In the aesthetics industry, influencers with much smaller, niche followings (than their globally-renowned counterparts) are becoming go-to brand-ambassadors. They are thought of as "mouth-pieces" in terms of spreading the word about new treatments and products, to their respective fan-bases.
Indeed, according to 2017 statistics from global market analyst, TapInfluence, 74% of people look to social media for guidance on purchase decisions and 49% of the consumers surveyed say they rely on product recommendations of influencers.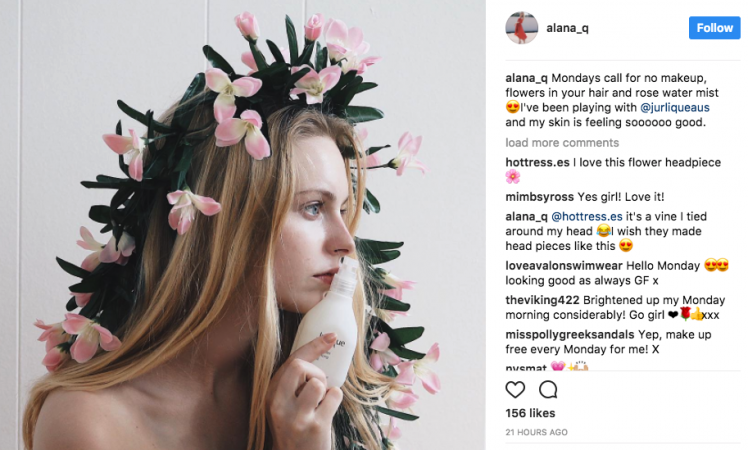 "An influencer is a marketing tool and we're here to help you grow your business through our following," says Alana Quartly, a Sydney-based singer-songwriter and beauty influencer, with 23K Instagram followers.
"The market you're trying to reach will determine the influencer you use, and depending on their engagement and following that will determine the fee they will charge."
SPA+CLINIC had the pleasure of meeting Alana at the Scout Cosmetics Superfood Skincare launch at the Chiswick restaurant in March this year.
Articulate, funny and open to a grilling session about her work, she tells us all about her world and how you can choose exactly the right "fit" for your digital strategy.
How did you become an Instagram Influencer?
I definitely stumbled into it. I started sharing some of my favourite brands on Instagram, one of them being Target (in particular Dannii Minogue's "Petite" range).
Target then noticed that I'd been showing (and sharing) my love for the brand and reached out asking me to model the range.
Throughout the campaign I was constantly posting things on my Instagram, that I genuinely loved, working with another petite inspiring woman who truly believed in the range. Both Dannii and Target were reposting my photos.
My following skyrocketed after working with Dannii, which was when other brands started to show interest. I started to expand my clients and build relationships with the brands I enjoyed working with.
Why do you think influencers (such as yourself) are key in inspiring consumer buying habits?
The greatest thing about influencers is that we are normal people, constantly on the lookout for new things to try – our followers can tell if we're being fake over our love for a brand or product.
If a friend came to you, genuinely excited about a new product she used, and you could see how good it looked on her, or how good the results were, would you go out and try the product for yourself? Influencers work in a similar way.
Since we share so much of our lives on social media, our followers will pick-up on something that doesn't quite fit in with who we are. If your 90 year old grandmother came to you with a pair of heels she'd been given and told you how much she loved wearing them out to nightclubs and how comfortable they are, you wouldn't believe a bar of it!
For spas, salons or clinics looking to partner with an influencer, you know you've found the right one when they're like your best friend – they're thrilled by your brand from the treatments on offer, to the products you stock. So much so, when they share it with the world, it comes from an authentic place which people pick up on. This translates to more awareness, engagement, sales and foot-traffic.
What qualities or skills do you need to have to be an influencer?
The most successful influencers I know are all incredibly outgoing, intelligent, and passionate about what they do. They're not just about taking money, they're interested in trying new things and building relationships with not only their followers but the brands they work with too.
You need to have an eye for design, style, be good with a camera, be able to write, have editing skills (not only for photos) but video too – you need to be engaging not only online, but also in person. We are essentially digital marketers with public speaking skills.
As an influencer, I am invited to many events from product launches to brand-cocktail parties. At these events, it's super important to be able to speak to anyone in the room, whether its the CEO of a company, the media, or even an organiser at the event who might need extra help on the occasion.
You're a constant banner for the brands you work with, if you slip up, not only do you tarnish yourself as a brand, but the brands you work with too.
For aesthetics businesses interested in partnering with an influencer, what are the need-to-knows?
Figure out who you're trying to reach whether it be celebrities, every day women, models, mums.
Once you know who you're trying to reach, start looking into influencers and who their target audiences are.
(If you're wanting to reach everyone, consider engaging a couple of influencers with different target audiences.)
There are so many influencers out there and we all have our own rates. If you're interested in working with one, definitely get in touch, talk about what you want and your budget. The general minimum rates per post are:
3k – 20k (followers) – $75 – $300 (avg. rate per post)
20k – 100k (followers) – $300 – $600 (avg. rate per post)
100k – 250k (followers) – $600 – $800 (avg. rate per post)
250k – 500k (followers) – $800 – $1200 (avg. rate per post)
500k + (followers) – $1200 + (per post)
From a personal point of view, even though I may be paid per post, my job does not finish when the 'post' is put up – a genuine influencer will continue to support the brands they represent outside of the paid social media post.
Influencer campaign results vary, especially for spas, salons and clinics. If the audience sees that your influencers are having regular treatments, it's going to look more genuine compared to a once off praise.
For business owners, I suggest checking in with your influencer and keeping them updated on the campaign results, and also ask them the feedback they've been personally getting from their followers about your brand. I love it when I get messages from followers, asking questions about something I had done, or product I used. I love it even more when I get messages saying they've gone out and bought same product or had the same procedure with amazing results. Thus, communication is key, we want to help you as much as we can.
In terms of reposting and crediting an influencer for their post, the general rule is: if you have paid for the content you have every right to repost. (As long as you add the Instagram handle on your post, thats all that's needed!)
Some influencers are super picky with reposting and want you to ask permission first, so if you're unsure about where they stand, it's always best to double check.
What are the best things about being an influencer and what are the challenges?
There are times where its hard. Sometimes it gets overwhelming, especially if you have a pile of products you need to test and photograph, a schedule of events to attend, modelling jobs, time in the studio and on-set.
In saying that, I absolutely love my job. I'm constantly meeting new people, trying new things, being creative and learning something new. I enjoy sharing parts of my life on social media, the work I get up to and all the brands I've been lucky enough to work with.
Many people look at the job of an influencer and think it is easy, realistically most influencers work more than the average person. It may look glamorous, and if your willing to put in the work, it can be a little glamorous too.
Instagram handle: @alana_q 
*Alana Quartly is a Sydney based social media star, model and musician with a growing following of 23K on Instagram.