If you're passionate about helping teens and young adults treat their acne and improve their skin for the long haul, did you know that there's a concept you could be implementing within your spa or clinic that can do just that? And on a much larger scale than just one appointment at a time?
Developed by Salon Marketing Coach, Skin School is a relatively new concept that facilitates in-clinic workshops, designed to improve problematic skin (and thereby, quality of life) for teens. Workshops are carried out in a group setting, teaching attendees all things skin – how it works, what is required to maintain healthy skin long term, products to use, the importance of sun protection and more.
Proud ambassador of the program is The Temple Skincare & Spa, located in Sydney's hills region. The luxury day spa is an avid host of workshops and events and has been for the past 17 years, and according to Director Rene Herald (Thorpe), who is passionate about assisting teens with acne, their very first Skin School event last week was a complete success.
"It was such a success and spiked so much interest, that we will make this a re-occurring event every school holidays, and we already have a list for June bookings interest," said Rene.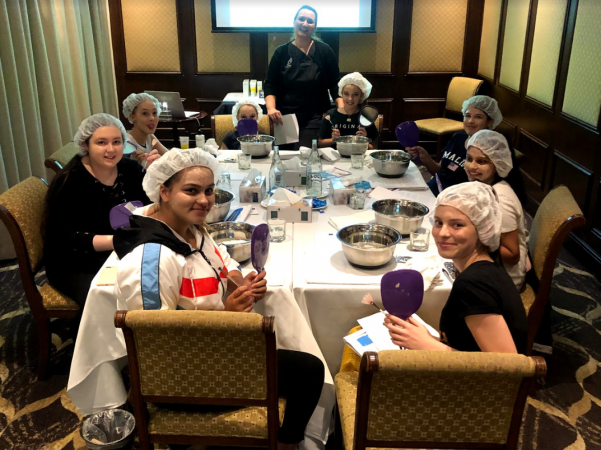 "We heard about the concept of Skin School originally about a year ago through a Facebook group I engage with called, 'The Salon Marketing Show' by Vanessa MacDonald. As I am a Mother of 5 daughters, immediately I recognised the strength of this idea. We have been in business for 17 years now, and we still love and care for our longest standing clients…. as well as their teenagers now too."
"At The Temple Skincare & Spa, we recognise that about 80% of us experience acne in our teenage years. We get total joy in helping teenagers know how to best take care of their skin now, so they can enjoy the benefits of clear skin for life. Acne is a very emotional skin condition that can play havok on your confidence as you are going through your impressionable years and puberty. We love to help these teens in our community to guide them on their skin journey. I was an ugly duckling at school and I would have loved someone to teach me the in's and out's of how my skin works, ingredients and how to care for my skin."
Rene tells us that currently, Temple treats a high volume of teens (and tweens!) with acne, and Skin School is just one step on their broad-spectrum journey towards acne-free teens.
"We always start with a computerised skin analysis to show them what is happening underneath their skin, so they can better understand the skin's function and workings of an acne condition as well as a healthy functioning skin. We use this skin analysis time to also do a little detective work in finding out the major causes of each person's skin condition. As I am sure you know, acne is not just a one fix wonder and is actually triggered by many different things and so we like to treat the person holistically to obtain the best results. We do this by using a combination of treatment modalities, ingredients and therapies, whilst taking into consideration personal health, wellbeing, hormones and lifestyle…. looking at each person inside and out."
And when it comes to lifestyle changes? The one piece of advice Rene loves to offer to teens struggling with their skin is to combine professional care with a healthy diet – full of fruit and vegetables, no sugar, and plenty of water.
"Eat a balanced diet and make sure it's full of colourful veggies. Avoid sugar at all costs as it effects the flora in the gut and exacerbates acne. Drink lots of water, take zinc and know you are not alone, you are beautiful and perfect. Seek professional help to care and advise what ingredients and treatments are best for you and your body. A professional can speed up your results, minimise wasted money and frustrations on gimmic fads, and YouTube tips that may not be right for you."
For more news and updates, subscribe to our weekly newsletter.