The Skincare Company's clean, simple and effective Australian-made skincare products are making waves in the industry.
Clients are more discerning than ever and 'compromise' is no longer a word they'll accept when it comes to their skincare routine. Not only do products have to be enjoyable to use, clients expect the brands they use to align with their values and create results that enhance in-clinic results.
Joanne Auld was quick to realise this when working in her successful clinic, Pamper Clinic, yet struggled to find skincare brands that complemented the non-invasive treatments she was performing. So, she created it herself.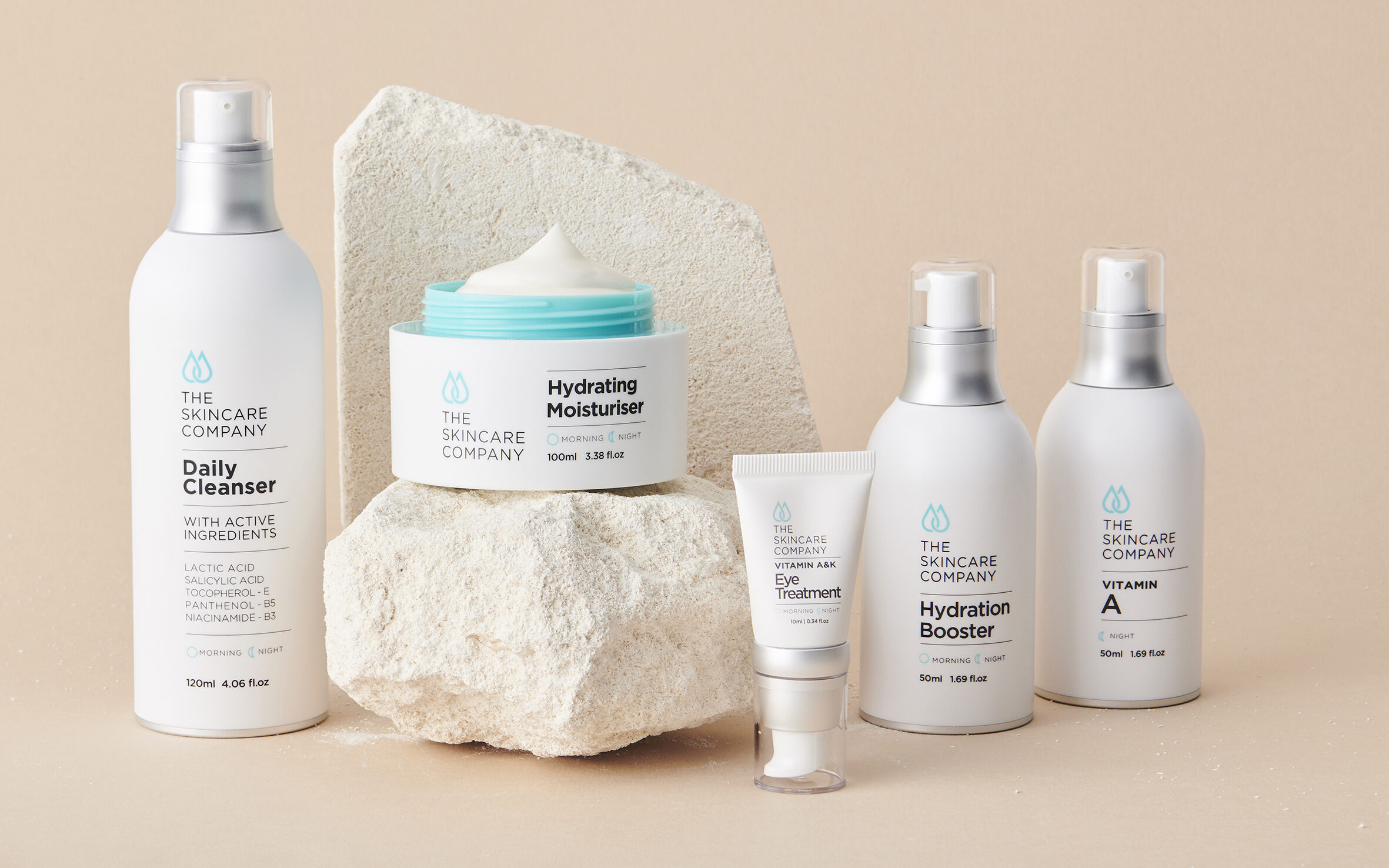 Her brand, The Skincare Company, checks all the boxes she and her clients were looking for and is now taking over the clinic space with a growing list of professional stockists. Like Jo, Dr Kristy Kostalas, founding doctor of Port Medical Aesthetic Clinic, is very particular about the brands she uses in clinic and has been seeing great results since working with The Skincare Company.
"The key differentials I look for when stocking professional products for my clinic are price point (they must be affordable for patients), effectiveness (they must WORK) and, if possible, supporting Australian," says Dr Kristy.
"I chose The Skincare Company because not only do they tick all the boxes for my key points above, but they also offer great promotions for patients, and they support the clinics that stock them. When our region flooded in March of this year, TSC donated products for us to make up care kits for our flood affected clients, many of whom had lost everything!"
"Our patients love The Skincare Company! It's a great Australian brand, the products work, and they're easy to use."
We chatted with Jo to learn more about the inspiration behind the range and exactly why it's making such an impact with clients and aesthetic professionals.
What has your experience in the industry been leading up to creating The Skincare Company?
JA: I began my career as a Registered Nurse and after working in medical and surgical nursing I decided to pursue a career in the pharmaceutical industry which endured for 10 years. As cosmetic injectable services began to become mainstream in the early 2000s, I became really passionate about learning the skills of cosmetic nursing and began my career as a cosmetic nurse undertaking anti-wrinkle injections and laser treatments for skin rejuvenation.
After gaining some experience under the supervision and mentorship of a local plastic surgeon and attending many educational programmes, I began my foray into this industry that I remain passionate and dedicated to. I co-founded The Pamper Clinic in 2007 and built the practice to employ over 14 staff members, offering across all non-surgical facial rejuvenation aspects including Fraxel, laser rejuvenation, skin peels, microdermabrasion, skin needling, injectables and more.
Can you talk us through the inspiration behind The Skincare Company?
JA: In clinic, I needed to have an armour of reliable skincare that could be used as an addition to clinical treatments and that complimented the non-invasive treatments we were offering for at-home skin maintenance. It was becoming more and more difficult to find the perfect complement to our in-clinic treatments when it came to sourcing a skincare range, so I decided to create my own driven by experience and client feedback. My focus was to formulate a range that was sophisticated and simple for everyday use at home, that is results driven and performs for every skin type.
What's the formulating process like for your products? Can you talk us through your PD and what's most important to you in these stages?
JA: Let me start by saying that formulating a bespoke product sounds way easier than it actually is! The process is both challenging and rewarding. I suppose my background in pharmaceuticals and researching active ingredients came into play here and has proven to be an extremely helpful resource. The process in short involves a product concept which outlines the use and purpose of the product. I also start by listing what I don't want in each formulation. I look for ingredients that are anti-inflammatory and that work with each other. I focus on very high-quality raw ingredients and always look to manufacture in Australia using the highest possible standards. Packaging and stability are not to be underestimated as part of the product development either.
The way we educate and inspire our customers is so important to us. In a saturated market, we don't want to add to the 'noise' and information overwhelm. We have grown our loyal community just like we have developed our products, with no unnecessary fillers. We simplify the seemingly complicated world of skincare and do it with care and passion to make a positive difference in people's lives. The thrill of seeing results from both our stockists and customers is why we do what we do every day. We live for life-changing results.
How do you consider the in-clinic experience when developing your products?
JA: The in-clinic experience means everything to us. We were born from the desire to create a product that complimented our in-clinic treatments but were not limited only to clinical use. We have worked to produce a full professional backbar range, which we are currently expanding and excited to launch our reformulated range in early 2022. This range allows our partnering clinics to accelerate the skin transforming results our customers wouldn't see with retail products alone.
How do you like to work with your stockist partners?
JA: We attract stockist partners who value our high standards and who resonate with our brand values. A lot of our stockists started out as word of mouth and colleagues of mine in the industry who have a mutual respect for me as I do them. Stockist partners are a respected source of our range being shared with many clients and a way for us to introduce the benefits of our skincare with customers who we would otherwise potentially not reach. This is invaluable to our business and our stockists are highly regarded industry leaders and experts in their field of cosmetic medicine.
This article was sponsored by The Skincare Company. Visit their website to learn more about the range.
DID YOU KNOW
There are 5 ways you can catch up with SPA+CLINIC?
Our quarterly print magazine, delivered to your door. Subscribe here.
Our website, which is updated daily with its own completely unique content and breaking news.
Our weekly newsletter – free to your inbox! Subscribe here.
Our digital magazine – click here to view previous issues.