If eyebrow shaping is in your repertoire, brushing up on the art of male-specific grooming could be great for business.
According to market analyst, Statista, the men's aesthetics market was worth an estimated AUD 27.8 bn in 2016. It is expected to grow a further 5 billion by 2010, making it the world's second fastest growing personal care category, behind the"green" market.
When SPA+CLINIC spoke with male grooming expert Stephen Handisides, he brought up several interesting points for aesthetics professionals looking to capitalise this growth.
Firstly, celebrities such as David Beckham (renowned as much for his red-blooded strength as his unabashed investment in his physical appearance) have affected the status quo and made it socially acceptable for men to spend big on everything from personal care to procedures.
In turn, Stephen said brands are changing their messaging to truly tap into the the male-mindset in their advertising campaigns, rather than rely on traditional macho-man stereotypes.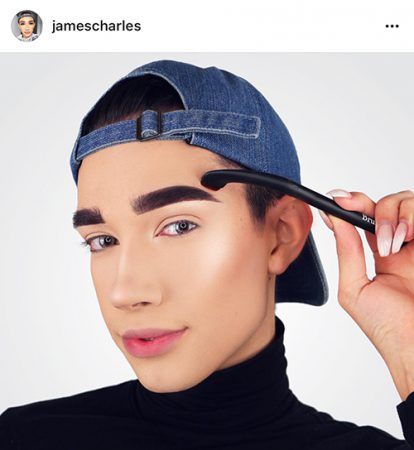 Stephen also noted that this "male mindset" has a different value system to its female counterpart. It hinges on looking good for their age, rather than turning back the clock.
Furthermore, he said that men feel more comfortable having aesthetic treatments when it's clear to them that they're being specifically catered for in a way that distinguishes their service from anything feminine.
Finally, Stephen declared that men make "the most loyal clients" who are unlikely to shop around when they're happy with a service, and are also prepared to spend big on their appearance.
For industry professionals this shows that nailing an introductory consultation might be akin to winning a long-haul client, with you as their go-to queries and a pit stop for skincare products.
One of the most popular first-time treatments for male clients is not surprisingly, eyebrow shaping. We speak with eyebrow expert Jazz Pampling and ask her about best practice (and top-tips) for shaping men's caterpillars.
Can You describe your perfect man-brows?
The key to shaping any men's brow is that they should not look "done". If you can tell it's been groomed, then you've probably done too much already.
Which celebrity brows do you like and who's could use your help?
Zac Efron has a good brow, you can see the tails lift well. George Clooney's eyebrows could use my help as the tails drop and wrap around his eyes. I would shorten the tails just a little to help open the eye.
How much hair should you remove on their first consultation if he has a uni-brow or close to it?
Communication is key between you and the client, but if he's prepared to bare it all on the first visit and get rid of that mono-brow, then you can. It's the easiest and quickest way to deal with it.
The only draw back is how groomed it will look initially, but its up to the client and what they feel comfortable with.
The great thing about the "full-monty" approach is, although it will be super groomed for the first two weeks, after some hair grows back, it will look natural.
What are the key differences in technique between men and women when shaping?
When I teach my men's brow-shaping class, the first advice I give students is how we approach the brow.
Ideally, women's brows generally have very clean groomed lines, and we work from the outside in whereas men's eyebrows look best when they're softer against their facial features, so we work from the inside out.
Men have natural lines around the brow, with the bulk of the hair removal taking place within the brow itself. This is why I go through the middle of the brow and deal with the dense hair there and unruly long hairs.
I use a combination of hair removal techniques to deal with this. I then will assess if the lines of the brow itself need a little work.
Jazz Pampling is a Sydney based eyebrow artist and educator with a devoted following of celebrities including Jessica Mauboy and Naomi Watts. She's holding several masterclasses (including a workshop on men's eyebrows) at Beauty Expo Melbourne next weekend on the 26th-25th March.
She is an eyebrow artist based in Sydney and is re-defining how women shape their brows. Her client list is rapidly growing and includes Naomi Watts, Samantha Harris, Natarsha Belling and Heather Maltman from the 2015 show, The Bachelor. She has worked backstage at L'Oreal Fashion Week for the past five years as a brow and make-up artist under the direction of Rae Morris and was invited to present at various Australian and New Zealand Beauty Expos over the last 5 years.