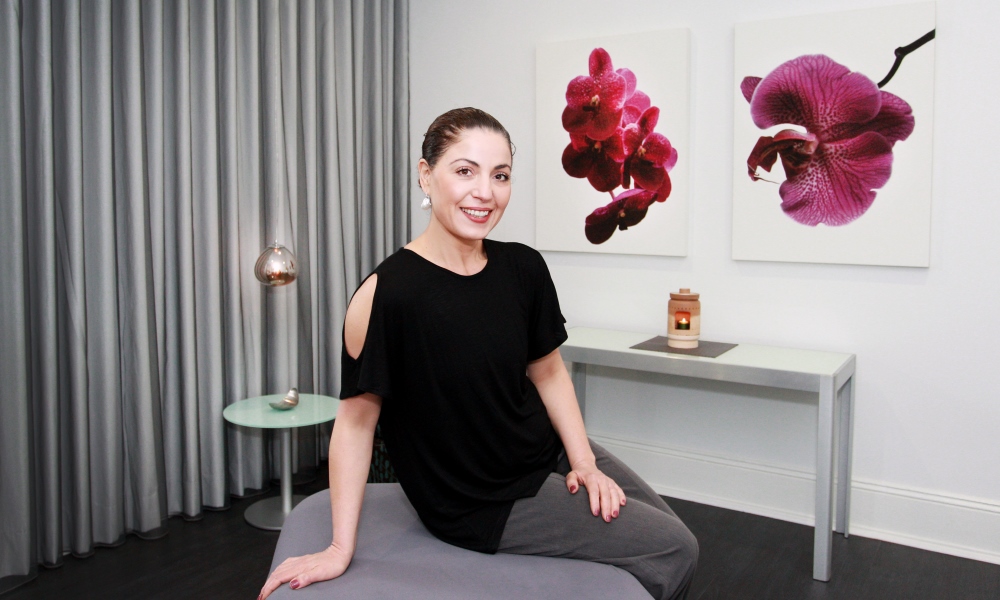 Maya Bilalis: Beautiful Intentions
04/02/2016
From medi spa to share salon owner, why Maya Bilalis says playing to your strengths is the key to success. Ashleigh Sharman discovers.
The momentous growth within our industry is a double-edged sword. It can at once create great wealth and opportunity but it can also push therapists and aestheticians away from their original intention — the reason they chose this industry in the first place.
Yet despite these hurdles, Maya Bilalis says the way to move forward is to listen to your gut and play to your strengths, always: And her move from owner of the successful Maya Medi Spa, to shared salon space, Maya & John, a lesson of beautiful intentions.
"Growing my former business was challenging! It was a large space and the cosmetic industry was growing so fast but I found it wasn't all part of my philosophy. I even struggled with elements of the name as it lead to so much expectation.
"I'm about the skin, I want the complexion to glow from the inside out and so many of the cosmetic procedures I was offering didn't resonate with me and my intention.
"When I come back to basics I appreciate the spiritual, holistic, elements of beauty therapy and especially human touch. I believe there is still so much room for that even though the cosmetic industry continues to grow so fast."
Closing Maya Medi Spa in October 2014, Maya sought a return to 'old school' beauty therapy in a shared space that could offer all of the finishing touches. Finding a likeminded soul in hairdresser John Colantuono, the pair opened Maya & John in June 2015.
"Over the years I've learnt to bring in the expertise you don't have and don't feel a passion for," explains Maya who has 17 years' experience to her name.
"I do a little bit of everything — keeping up with the latest technologies but still being true to what I believe in and I've always sought therapists who have the same passion.
"I work with the best cosmeceutical products and equipment to support staff within my philosophy, always asking 'do I really believe in it and can I sell it?'"
John then shares the same passion for excellence and holistic approach, treating hair from the follicle and with a focus on scalp health. "It's much like how I approach skin," says Maya, "take time out, treat it properly."
The cosy terrace, in the affluent Sydney suburb of Woollahra, is warm and inviting, and fits right in amongst Queen Street's village vibe. The two upstairs treatment rooms create a spa feel, complimented by the colour and creativity from the ground floor hair, nail and makeup services.
"We're still working on the combination of treatments as a 'signature package'," Maya says of the partnership.
"Holding onto our vision in an industry that wants, quick, easy, results-driven treatments is a constant challenge — as is the traditional separation of hair and beauty services."
But Maya admits she is finally becoming more and more confidant in herself.
"I know what I am doing is right for me and what I believe in and that's all I can offer. Just because the industry tells it another way doesn't mean I have to go along with it," and her long term relationship with distributors, True Solutions International has perhaps also played its part in this.
A True Solutions account since her early days at David Jones, Maya has kept the relationship throughout her career; continuing at Maya & John where she treats clients to Elizabeth Arden PRO, Hydro Peptide, Decléor and Omnilux.
"I just know Mandy Gray is doing all the hard work for me to offer the best there is and I trust them to offer a spectrum of brands that smell good and feel good, to those that are purely results-driven.
"With lots of experience, you also learn to break the rules in mixing products to create a bespoke treatment. The combinations are endless, just like a clients' skin, and I love to give that freedom to my therapists," she says adding it's important to listen to the client and their needs but ultimately the treatment needs to resonate with who you are and what you are prepared to offer.
"Don't change yourself and your philosophy, stay true! That's what I have learnt over the years. It's about making people happy but not at the expense of losing yourself to the industry."
Maya & John, 158 Queen Street, Woollahra NSW
mayaandjohn.com.au